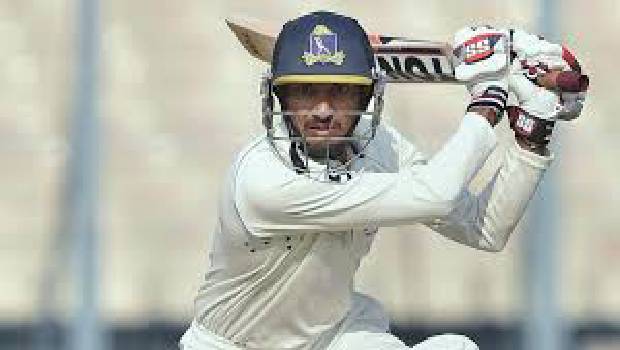 The Ranji Trophy series which is been commencing from 2019 December, had Bengal Vs Delhi in the Eden Garden, Kolkata on 27th January 2020. Bengal batted the first innings where Delhi won the toss and decided to field, A Raman and KB Gosh opened for the team.
Raman left the ground with 9(19) runs by the Delhi bowlers and the left-handed batsman Kazi Saifi was replaced. Gosh scored 46(122) runs until Jonty Sidhu took the batsman wicket. Manoj Tiwary who is the vice-captain of the Bengal team was stumped by Anuj Rawat from Vikas Mishra pass. Tiwary scored 7 runs disappointingly who had given more than one century in the previous match.
The teams returned to lunch and continued after the break, Anustup Majumdar resumed the batting for the Bengal team by piling runs slowly. The Eden Garden pitch is well suited for batting than bowling for the teams, unknowingly or knowingly the bowling favoured the Bengal batsman Majumdar for the player's batting style. Bowlers had tried different bowling techniques against Majumdar batting, but the batsman used his feet as a stump to cover the deliveries. A run to century coasted the batsman to return with 99 runs from 189 balls.
After Anustup Majumdar run-out, scores started to fill the board as Shreevats Goswami added 59(84) runs, Shahbaz Ahmed scored 46(74) runs for the team. Akash Deep and Mukesh Kumar (not out) earned 19(42) runs together, a total of 318 all out was the target set for the Delhi team.
Kulwant Khejroliya the Delhi bowler found giving runs for the Bengal team, Ishant Sharma was absent due to his ankle injury who also was wanted by the team very badly. Delhi bowlers Simarjeet Singh 4, and Viskas Mishra 3 had the maximum wickets for the Delhi team. The Delhi team's coach, KP Bhaskar felt that the bowlers could have pitched more bouncer for the front-foot batsmen. Khejroliya who had returned from the injury could not contribute much was the Coach's words.
On the first day, Hiten Dalal scored 40 and Dhruv Shorey 59 not out, from 110 balls. N. Das took 2 wickets for the Bengal team and Delhi needs 183 runs to achieve Bengal score. In an interview, the loss of batsman was unreasonable and the team might start from scratch were the words shared by Anustup Majumdar.