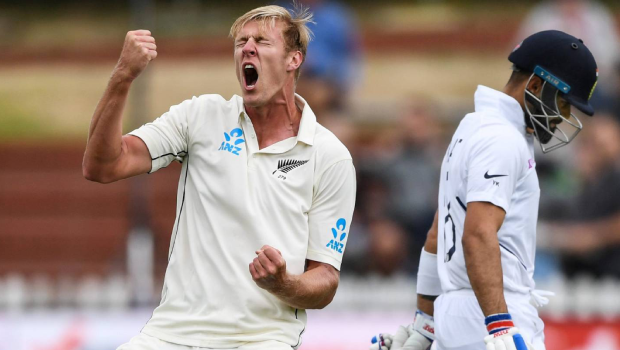 India began the 2nd Test series with the Kiwis on New Zealand's Hagley Oval cricket ground from 29th February 2020. Though Kiwis decided to field against the host, Team Blue was evidently back with plans on Day 1.
India's Prithvi Shaw improved techniques against the Kiwis pacers brought 54(64) runs to the table, but Kyle Jamieson edged the batsman off. Trent Boult sent Mayank Agarwal for 7 runs, Tim Southee took Kohli, AM Rahane jointly for 10 runs and then Jamieson picked another wicket CA Pujara after 54 runs. GH Vihari, who took tall bowling from Neil Wagner, satisfies the bowler only after gaining 55 runs from the deliveries, but India was out of middle-order batting options.
Kyle Jamieson, who bowled after the break, removes Rishabh Pant in 55.1 overs for 12 runs, Umesh Yadav for a duck by Jamieson and Ravindra Jadeja delivered two 4's and then fell for the same bowler by being caught by Boult. Kyle Jamieson towed 5 wickets at the beginning of the 2nd Test by placing Kiwis in the series lead.
Mohammed Shami and Jasprit Bumrah scored 26 runs from 23 balls, India set the first innings, in the 2nd Test chase as 242 and all out and Kiwis began their first innings, with Tom Latham and Tom Blundell. After being bowled by Bumrah, Yadav, and Shami, Kiwis closed the day with 63 runs.