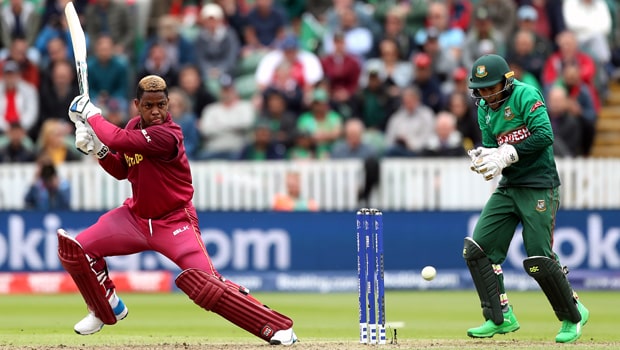 India have the least to worry about as they are unbeaten in the tournament so far. They would be eager to stretch their winning run further as they go up against the Windies, who have won just one out of their six matches so far, on Thursday. Going by the record of the two teams in the tournament, it looks like a fairly easy fixture for India. But they can't afford to take them lightly considering the way the Windies threatened to snatch victory away from New Zealand in their last match.
It was Carlos Brathwaite who took the Windies so close to the finishing line with a breathtaking century and he would be riding on that confidence to perform well in this match as well. So, he is one player India need to worry about. Chris Gayle is another dangerous batsman who can't be overlooked in any match and against any opposition. In the absence of Bhuvneshwar Kumar, who has had the better of Gayle twice in ODIs previously, the onus will be on Mohammed Shami to keep him at bay. He had dismissed him once previously during the 2015 World Cup.
However, other than them, India will also need to focus on two other players, Shimron Hetmyer and Shai Hope, who may not have such a reputation as Gayle and Brathwaite but have tormented India a lot in the past.
Both of these batsmen gave India a tough fight during their tour of the country for a five-match ODI series last year. While Hetmyer smashed 259 runs in five matches at an average of 51.80, Hope wasn't far behind with a total tally of 250 runs at an average of 62.50. Both of them scored one century in the series each and showed that they have in them what it takes to put up a competitive performance against a strong team like India.
Although it was the first time Hetmyer was playing against India, Hope already had prior experience of playing against this attack. He also featured in the five-match ODI series when India toured the West Indies in 2017. Hope scored two fifties and returned with a total tally of 181 runs in four innings at a healthy average of 45.25 as well. So, he is a seasoned campaigner against India now, having already played two series against them.
So, these two players will have the mental edge when they go up against India on Thursday. Hetmyer had a timid start to the World Cup with scores of 7*, 20 and 39 in his first three innings. However, he is getting into his zone as suggested by his innings of 50 and 54 in the last two matches against Bangladesh and New Zealand respectively. So, he would be eager to kick on and get a big score in this match against India.
Hope has also shown form in this tournament with innings of 68 and 96 against Australia and Bangladesh respectively. Moreover, he has been in tremendous form in 2019 as far as ODIs are concerned. He has scored 772 runs in ODIs this year at an average of 55.14 and it includes seven fifty-plus scores, two of which are centuries.
So, if these numbers are anything to go by, India will have to work very hard to get rid of these two batsmen in the upcoming match. Their bowlers will need to be at their absolute best, just like they have been in all the matches so far.
Written by: Prasenjit Dey