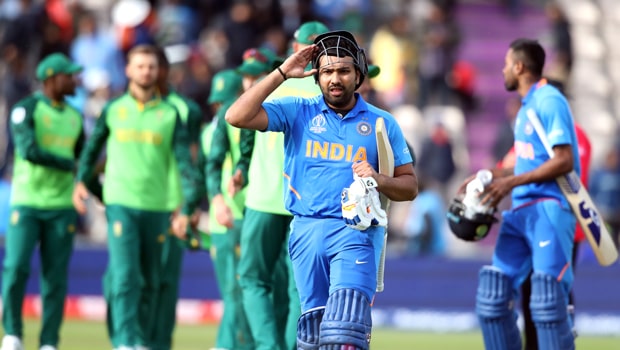 The top-order (positions 1-3) of most of the teams featuring in ICC World Cup 2019 has played a key role in determining their respective team's fortunes in this competition thus far. The tournament has already entered into its mid-phase with every team having played at least five matches. India has played the least number of matches, which stands at five, and one of those matches was even washed out by rain. So, they have effectively competed in four matches so far.
In fact, if the batting averages of the top orders of all the teams are considered, India has the best with a figure of 70.54. Only New Zealand and Australia come close with top order averages of 61.90 and 61.70 respectively.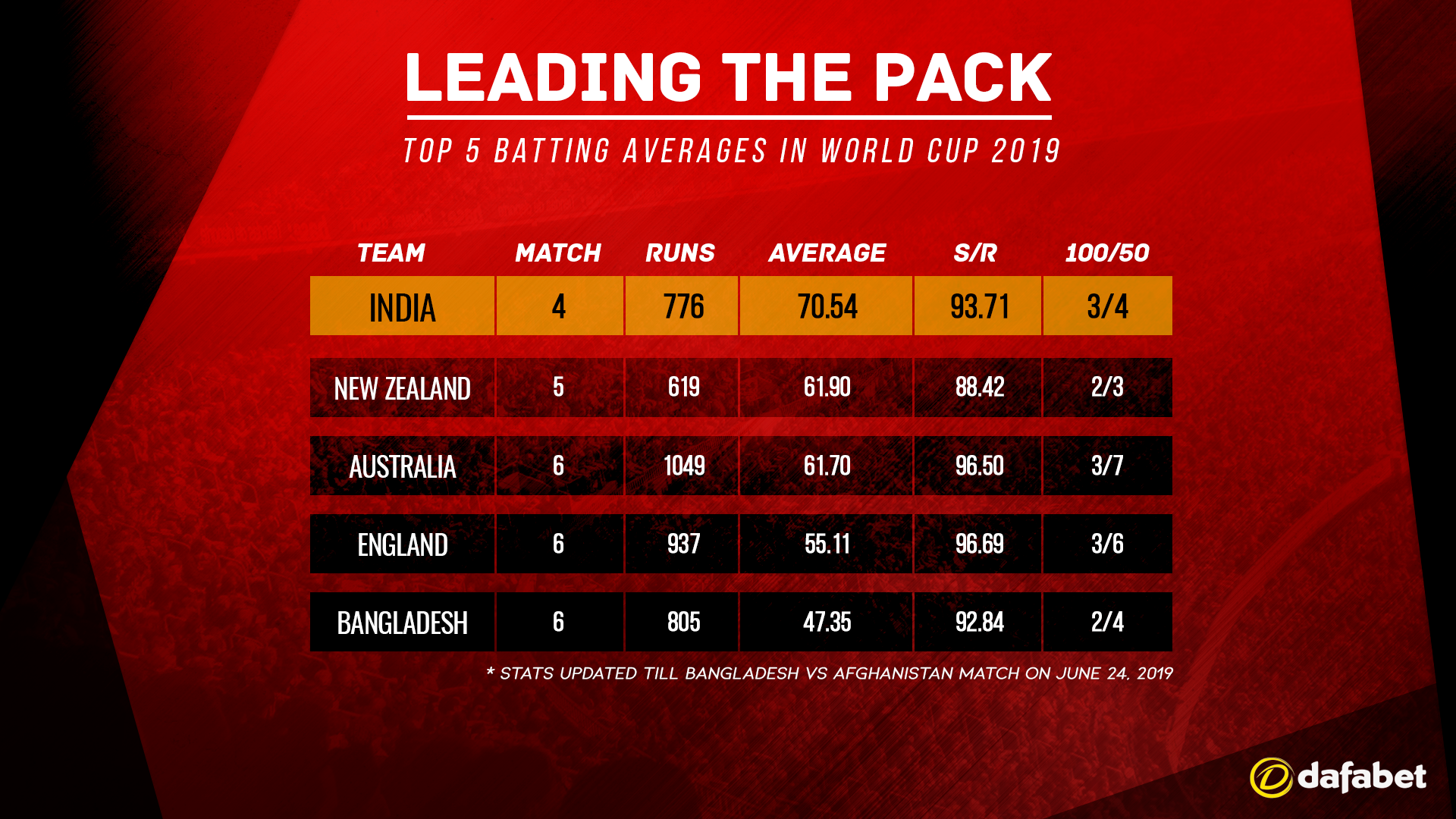 Rohit Sharma's fabulous performance is the main reason behind such good numbers of the Indian top order. He has scored 320 runs so far at an average of 106.66, and these runs include two match-winning centuries and a fifty as well. Virat Kohli has played his part too with 241 runs at an average of 61.00. He hasn't scored a century yet but he has three fifties to his name.
The one player they are missing though is none other than Shikhar Dhawan. He has been India's main man for ICC tournaments. He scored 125 runs in two matches at an average of 62.50 but was subsequently ruled out with a thumb injury after his century against Pakistan. KL Rahul has stepped up in his absence though. The right-handed batsman has contributed 87 runs in two matches at the top of the order at a healthy average of 43.50 as well.
Another fascinating part about the Indian top-order is the rate at which they have scored such consistent runs. Their overall strike-rate of 93.71 is the third best in the tournament. Moreover, if the number of fifty-plus scores are considered, the Indian top three has scored eight in four matches, three of which have been converted into hundreds. Only Australia and England have more with 10 and nine fifty-plus scores respectively. However, those have come in six matches each.
Interestingly, if only the matches won by each team is considered, India's tally of 776 runs jumps to the second position in terms of most runs by the top order in winning cause. India are unbeaten in the tournament so far. Australia still remain at the top with 888 runs having won five out of their six matches so far. England are just behind India with 719 runs in four matches they won. The Indian top three's average of 70.54 is also the highest among all teams who have won at least two matches in the tournament so far. And their number of fifty-plus scores (8) is also the joint highest along with that of Australia in such case.
However, with a tally of 776 runs, the Indian top three is still fourth in the list of most runs scored by the top order in this competition.
Only teams like Australia, England and Bangladesh have more runs than the Indian top order with tallies of 1049, 937 and 849 runs to their accounts respectively. However, all of them have played two matches more than that of India.
Six teams—South Africa, New Zealand, Pakistan, West Indies, Afghanistan and Sri Lanka—are behind their tally even after playing more matches than India. In fact, the South African top order is still 151 runs behind that of India's tally even after playing three matches more than them.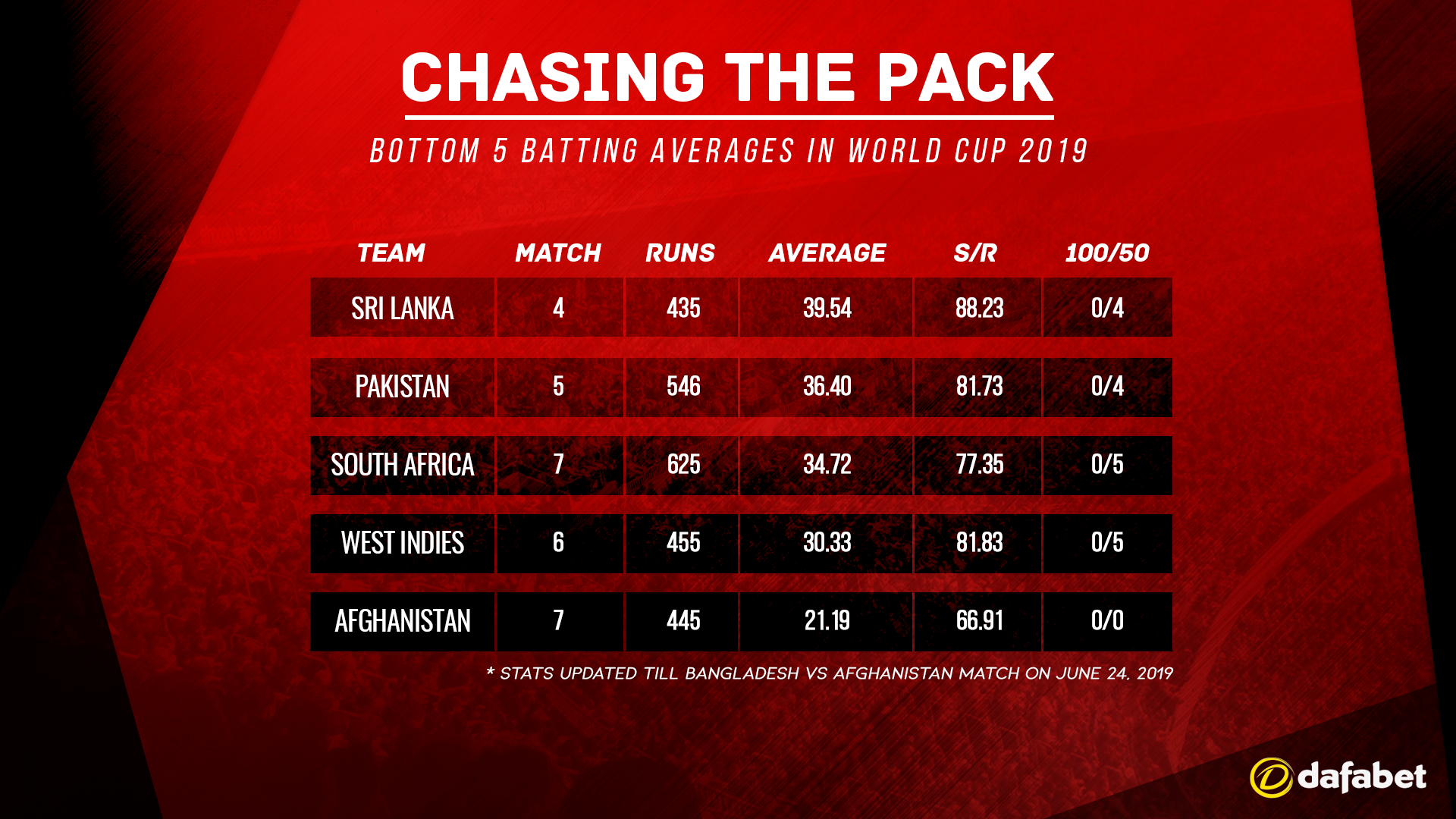 So, the Indian top order has probably been the best in the tournament so far. They have influenced all their victories and it is fair to say that their success or failure is going to make a direct impact on their match results in the tournament ahead.
Written by: Prasenjit Dey