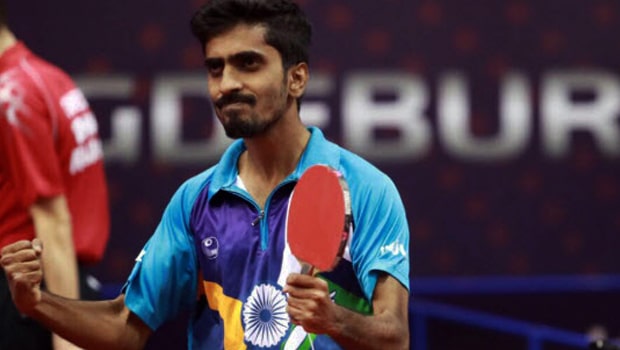 Indian paddler Sathiyan Gnanasekaran recently created history by becoming the first ever individual from his country to break into the top 25 players as per the latest rankings released by the International Table Tennis Federation.
Now ranked 24th, Sathiyan moved up four places following a near-successful outing at the Asian Cup and the World Championships. The Chennai-born paddler shined at the Asian Cup in Yokohama and finished sixth having beaten no.8 seed Chinese Taipei's Chuang Chih-Yuan along the way. Sathiyan's victory over the Chinese Taipei veteran underlined the progress he's made recently and undoubtedly bodes well for him in the future.
The engineer-turned table tennis player has enjoyed an excellent last couple of years in the international circuit and also secured gold, silver and bronze medals at the 2018 Gold Coast Commonwealth Games in the men's team, men's doubles and mixed doubles categories respectively. Sathiyan's ability to exploit tight angles at high speed has been synonymous with his game and was clear as day during his bronze medal win at the 2018 Jakarta Asian Games.
Sathiyan and Manika Batra's enterprising brand of play were, in fact, the highlight of India's 2018 Asian Games campaign. However, while Manika's development has hit somewhat of a plateau, Sathiyan's gone on to relentlessly build on his success with unparalleled focus and determination.
The 26-year-old has previously spoken of his desires to reach even greater heights in the future. He dreams of bagging a medal for India in the Olympics for starters and much more. But to do that, he'll have to first compete against top opponents on a consistent basis, which is something he's already doing but also needs to maintain.
The fact that Sathiyan not so long ago took a game off Olympic champion and Chinese legend Ma Long in a quarter-final encounter is another indicator and further affirmation of his continuously burgeoning stature in the world of table tennis. However, becoming more known comes with its own challenges and that's something Sathiyan will soon find out.
Having said that, there's no doubting the fact that he's already proven that he has the mantle to overcome whatever obstacles come his way. From being an unknown name in table tennis to a crucial member of the Indian squad, then an Arjuna awardee and now the highest-ever ranked Indian player in the world; Sathiyan's rise has been brisk and is cause for great optimism for the Indian TT fraternity as well as a nation on the whole.
We'll soon find out, if he does indeed have what it takes to go on and carve out a place for himself in the prestigious, diverse and rich annals of Indian sport. However, for now it's safe to say that he's as good a bet as any up and coming player when it comes to breaching the Chinese bastion in table tennis.
Written by: Andre Pitts