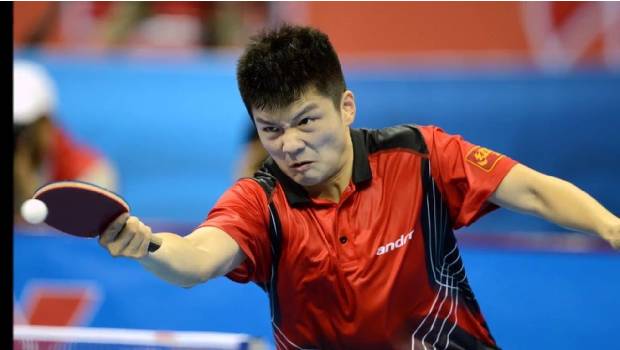 China's Fan Zhendong won his third-consecutive ITTF World Cup by defeating the three-time Olympic table tennis champion Ma Long by 4-3 in a thrilling match.
Zhendong, who is nine years junior to Ma, entered the first men's final of the #RESTART Series as the fan favourite to retain his title. But the legend of the sport Ma took an early lead and won the first set 11-9. Fan then came back strong to claim the second 11-8 and third 11-3.
After finding his rhythm Fan played to Ma's faltering backhand to win the fourth set 11-6 and a 3-1 lead in the match. But Ma in the fifth set showed the world why he is the reigning world champion by putting in some brilliant superlative parallel shots to claim the fifth set 11-7.
Ma held his nerve in the crucial sixth set and displayed a much-improved backhand game and closed the won 11-7 taking the match to the final set.
The two men were at 5-5 when Fan took a key time out. Coming back from that Fan closed the final set by 11-9 with some great rallies and clinched the trophy with a 9-11, 11-8, 11-3, 11-6, 7-11, 7-11, 11-9 victory.
Fan's road to the final went as planned in the first global event to take place since the cancellations due to the pandemic. In the semi-final, he had a dominant win over Korea's Jang Woojin by 4-0.
Unlike Fan, it was a tad bit easier for Ma during the final four matches as he won against Japan's Tomokazu Harimoto by 4-3, who took the runner-up position in 2019. In the third-place playoff, Tomokazu claimed victory over Jang by 7-11, 7-11, 11-9, 11-6, 14-12, 6-11, 11-5.
Tomokazu after winning the bronze said there was a huge difference in performance level when compared to the afternoon match. He admitted to making many errors.
During the afternoon match, he felt like playing really well against Ma but against Woojin he was still a bit nervous as feels lacking skill in some areas.
But Tomokazu still considers winning a medal as a good achievement since it was tough even to win a single match in the tournament and he feels pity to lose the afternoon match.
The players will now move on to compete in the ITTF Finals (19–22 November) in Zhengzhou.