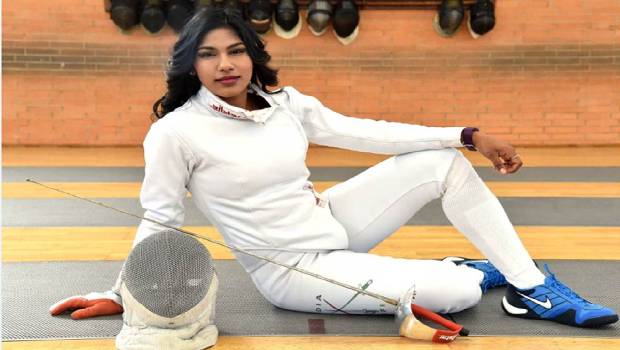 Bhavani Devi the first-ever fencer to represent India had a historic win over Ben Azizi at the Tokyo Olympics. Bhavani Devi made a dominant winning start to her maiden Olympic game at Tokyo 2020 on Monday. She also became the first Indian to win a debut Sabre fencing game in Olympics. Bhavani made the Indian fans very happy with her top-class performance.
Bhavani Devi faced Nadia Ben Azizi in the Women's Sabre fencing Table of 64 bouts. Despite a delay in the start, Bhavani Devi kept herself cool and composed. Bhavani was in complete control and took an 8-0 lead quickly. Bhavani was looking so solid and never allowed her opponent to gain any momentum in the two rounds.
Bhavani attacked Azizi with exactitude and also scored useful points with few smart touches even when she was on the back foot. Bhavani defeated Ben Azizi 15-3 and advanced to the table of 32. This victory in the Olympics will be a memorable one in Bhavani's career. The 27-year-old from Tamil Nadu trained tremendously in Italy and enhanced her techniques for the Tokyo Olympic Games.
Debutant Bhavani Devi faced a tough test in the Round of 32 as she went on to take the World's No.3 Manon Brunet of France. Bhavani ranked 42 found it difficult to collect points against the 4th seed Brunet. But her fighting spirit was noticed over the two rounds as she pushed herself front and remained in the battle against the much anticipated French Sabre fencer.
Bhavani Devi, national champion of India trailing Brunet 2-8 took a break in the middle. Bhavani never allowed Brunet to be relaxed as she kept on putting pressure by claiming plenty of touches. Bhavani made the battle so tough, as she played smartly and collected 5 points in the 2nd round. The French fencer played with all her experience to get a win over Bhavani and reached the Pre quarter-finals.
Despite a defeat in the round of 32, Bhavani Devi will be remembered as one of the most determined athletes and her supremacy will stand in the Indian Olympics history. Bhavani will inspire many to take up the sport in India. Bhavai Devi is a 9-time national champion in India. Bhavani won the Bronze medal at the 2009 and 2012 Commonwealth Games. She subsequently won medals in the 2010 Asian Fencing Championship and 2015 Flemish Open. Bhavani became the first Indian to win a silver medal in the 2014 Asian Championship.