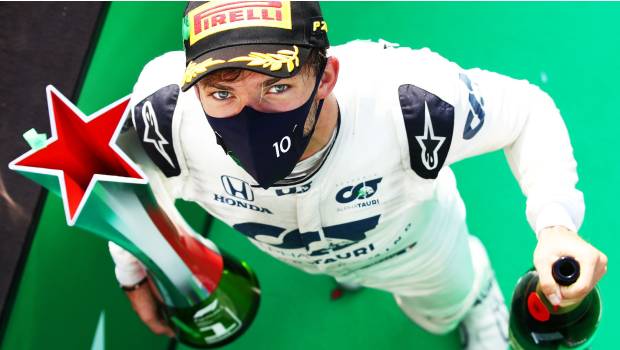 French Formula 1 race driver Pierre Gasly has decided to race for AlphaTauri in the 2021 season and this news was confirmed by the Formula 1 team. Any speculations of Gasly returning to the Red Bull team came to an end with this announcement.
In a recent statement, the AlphaTauri team boss Franz Tost in his statement said Gasly has proven to be a competitive driver for the team and hopes for him to stay with the Red Bull family for more seasons to come. Tost lauded Gasly's ability to get the most out of the car at every race and giving his engineers valuable feedback. He added saying Gasly to be mentally stronger and motivated and that the team is looking forward to extending this association in the 2021 season.
Gasly came into Formula 1 in 2017 and raced with AlphaTauri, then known as Toro Rosso and later he moved to Red Bull in 2019. During that year citing to poor performance, Gasly was demoted halfway through the season back to AlphaTauri in a straight swap with Thai racer Alexander Albon.
For the upcoming season, Albon is also facing such a similar situation as his seat is still uncertain due to the Thai racer trailing behind his teammate Verstappen in the championship.
While Gasly's teammate Daniil Kvyat holds the second seat in AlphaTauri speculations has risen that Japanese Formula Two driver Yuki Tsunoda could be riding in place of him.
The 24-year old driver in his statement said he is extremely happy to continue with Scuderia AlphaTauri for another season. This year is going very well for him in the team and they are riding towards their most successful season in the team's history. He feels they have a very strong relationship and that they have managed to take complete advantage of every opportunity that they have offered with this season.
Gasly won his first career race this year at the Italian Grand Prix with the AlphaTauri.
He said winning his first Formula 1 race in Monza as a very special moment for him and the occasion was more delightful since it was the second win in the team's history which made him feel proud of it. He assured that he'd give his maximum effort to push the team to new heights and get better results next season.