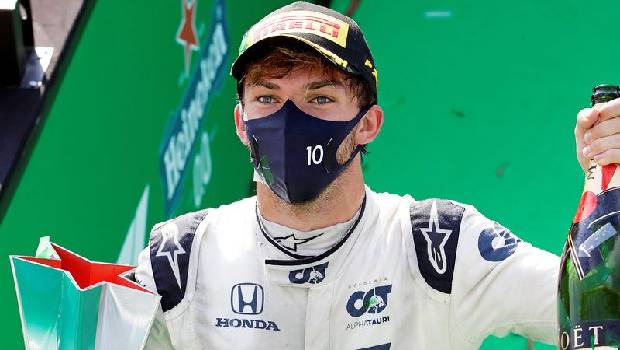 Formula 1 saw a shocking result in which Pierre Gasly won his maiden race for AlphaTauri. The Italian GP became a hugely-dramatic and surprise-filled race in which Lewis Hamilton completed at seventh position after conceding a time penalty.
In one of the nail-biting finishes of the recent years, Gasly held off Carlos Sainz of the McLaren team by less than a second for a memorable and emotional victory. It was a rare sight to see as the sports unbeatable drivers either made mistakes or ended up retiring. Racing Point's Lance Stroll finished third which was his second career podium, with McLaren's Lando Norris in the fourth.
Italy's second team AlphaTauri now becomes the first team other than Mercedes, Red Bull and Ferrari to win a GP since 2013. AlphaTauri's previous GP win was back in 2008 which also was at Monza with a young Sebastian Vettel.
An exuberant Gasly said after his win that after going through so much in the past 18 months he was struggling to realise on what had happened. Nearly a year ago Gasly was demoted brutally and swiftly from the Red Bull team. Speaking about his AplhaTauri team he said no words could describe what the team has done for him and above all now it giving him his first win.
After leading the race in the early stage Hamilton was handed a penalty. It was because he pitted when the pit lane road was closed after Kevin Magnussen due to a car failure stopped at the side of the track.
As a result, Hamilton dropped to the backend of the line but raced back through to P7. His teammate Bottas finished fifth after a poor start. As Red Bull's Max Verstappen had to retire with mechanical problems.
But it was the Scuderia that had an even worse weekend at their home. Ferrari's Charles Leclerc crashed hard at the Parabolica bend. The aftermath of the crash brought the red flag and suspended the race. Also, fellow teammate Sebastian Vettel retired early during the race citing a brake failure.
Daniel Ricciardo came in sixth for Renault, while Hamilton's final overtake saw Esteban Ocon demoted at the final stage of the race. Daniil Kvyat and Sergio Perez both after having a fabulous run at the early stage was only able to finish at P9 and P10.