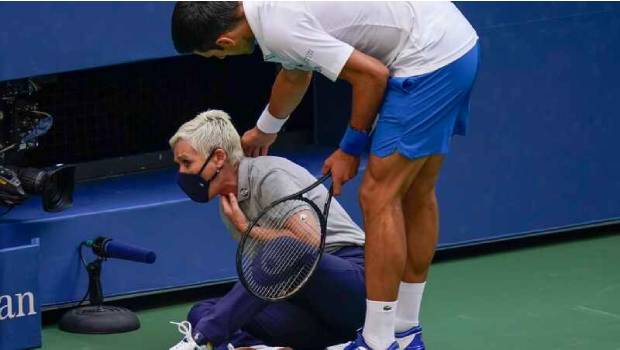 Novak Djokovic was kicked out of the US Open for accidentally hitting a line judge in the throat with a tennis ball after dropping a game in his fourth-round match on Sunday. This disqualification has brought Djokovic's astonishing 29-match winning streak and on an attempt on his bid for an 18th Grand Slam title to an end.
After trailing Pablo Carreño Busta by 6-5 in the first set he walked down the sideline for a changeover at the Arthur Ashe Stadium. During this moment Djokovic smacked a ball angrily behind him which flew right at the line judge. Immediately she dropped to her knees holding her neck at the back of the court. Before the tournament began the Serbian was considered favourite to win the championship.
Later the incident took place there was a discussion for about roughly 10 minutes at the sidelines of the net. Tournament referee Soeren Friemel, chair umpire Aurelie Tourte, Grand Slam supervisor Andreas Egli and Djokovic were involved in this discussion during which the Serbian pleaded his case.
Djokovic's point was that he did not intentionally hit the line umpire. He admitted that he was angry which made him hit the ball that went on to strike the line umpire. But he emphasized that it was not his intent and did not do it on purpose. So, he said he should not be defaulted for it. Friemel agrees that he didn't do it on purpose, but as per facts, he did hit the line umpire which clearly hurt her.
Eventually, the match was called off and Djokovic walked over to Carreño Busta to shake hands. The chair umpire then announced that Djokovic had indeed defaulted. Defaulted is a term in tennis that is equivalent to an ejection.
As soon as the decision was announced Djokovic left the tournament grounds quickly without giving any interviews to the reporters. Hours later he then posted an apology on his social media.
Later that day the USTA announced that Novak Djokovic forfeits both the ranking points and the prize money of $250,000 that he earned in the US Open. In addition to it, he is also been fined for the offending incident.
The 33-year-old from Serbia was expected to clinch his fourth trophy in US Open since reigning US Open champion Nadal and Federer pulled off from participating in the tournament.