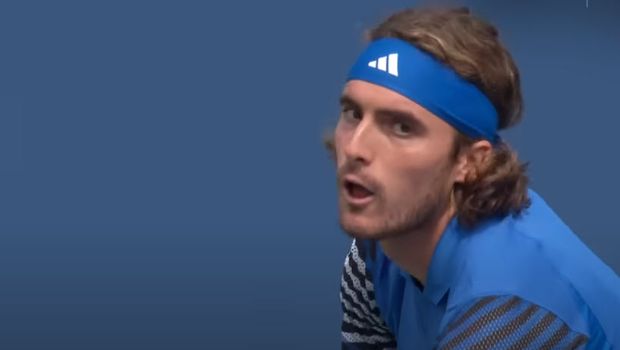 Stefanos Tsitsipas did not get to the third round of the US Open men's singles in 2023. On Wednesday, August 31, the Greek star was defeated 5-7, 7-6, 7-6, 6-7, 3-6 by Swiss player Dominic Stricker, who earned his first win over an ATP top-10 player. The first four sets came down to the wire before Stricker delivered in the decisive set. Tsitsipas had a chance to win the match at 5-4 in the fourth set tie-breaker, but his young opponent stormed back.
The 21-year-old, making his New York debut, displayed determination and quality throughout the 4-hour, 10-minute marathon to secure his second five-set victory at a major. In humid conditions, the lefty fought from 3-5 to win the fourth set, despite being two points away from defeat three times.
Tsitsipas struggled with his second serves, winning only 41 percent of the time and committing six double faults. Even though he struck 22 aces, it wasn't enough to keep him from losing. Stricker hit 79 winners, eight more than his opponent, which greatly aided him. Stricker will lock horns with Frenchman Benjamin Bonzi in tomorrow's (September 1) third round.
The wild card Benjamin Bonzi also stunned home favorite Christopher Eubanks, winning 7-6(6), 2-6, 6-2, 7-6(7). The Frenchman hit 19 aces to Eubanks' 15 and stayed calm in crucial situations, converting his third match point in the fourth-set tie-break to avoid a decider.
On Friday, Bonzi and Stricker will square off for the first time, with the winner earning his first-ever fourth-round berth at a Slam. Bonzi's best major performance came in January when he reached the third round of the Australian Open.
Tsitsipas was knocked out in the first round of the US Open last year by Daniel Elahi Galan and has now failed to make the second week in six attempts. The Greek, who went 1-2 at ATP Masters 1000 events in Toronto and Cincinnati, hit the ball well against Stricker in their second ATP Head-to-Head match but made critical errors off the backhand side.
I came out today pretty well. I felt good from the first set on. It was a tough battle but I am just super happy right now. Such a great day for me, such a great win, Stricker said. It gives me a lot of confidence and I think it is great to see from my team. We are working hard every day and it is so great to do that, he concluded.