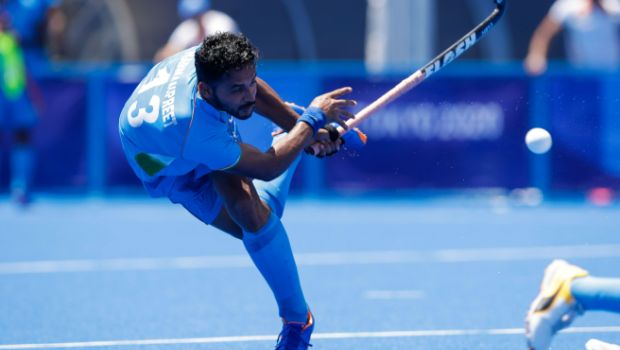 India men's hockey team captain Harmanpreet Singh confessed that his side's focus will be on Asian Games, an Olympic qualifier, as they plunge into the European tour for Pro League matches, starting on May 26. Men in Blue left for London on Monday to play in the first leg of the European tour where they will take on the defending Olympic champions Belgium on May 26 and June 2. Team India will then lock horns with the hosts Great Britain on May 27 and June 3.
Indian men will then go to Eindhoven for their last set of matches against the Netherlands to be played on June 7 and 10 and finally against Argentina on June 8 and 11. Currently, Indian men are the leaders of the Pro League table with 19 points from eight matches. The United Kingdom also has an identical number of points but they are placed second due to an inferior goal difference. Team India remained unbeaten against reigning world champions Germany and Australia, which helped them to lead the points table. The European leg will be India's first outing under new chief coach Craig Fulton.
Harmanpreet said the European leg matches will play a crucial role in India's preparation for the Asian Games, which is scheduled to be played in September. The team winning the gold medal will automatically qualify for the 2024 Paris Olympics. Indian captain expressed that his men will look to build on the good work done in the home leg to prepare for the tough tournaments that take place later this year.
We have very crucial matches coming up as we get to the business end of the Pro League season. We are in a strong position in the table so far and we will look to get as many points as possible in the remaining matches, stated the 27-year-old defender. We are excited about this tour as it also gives us a great opportunity to play against quality teams. These matches will be really important for us as we prepare for the all-important Asian Games scheduled later this year, said Harmanpreet.
We have had good intensive training sessions at the national coaching camp in SAI Centre, Bengaluru. The preparations have been really good, and our previous matches in Rourkela were a big confidence booster for us, so we will look to replicate the performance in the upcoming matches, the skipper added. We will look to keep the momentum going as we have a long tour, Harmanpreet concluded.