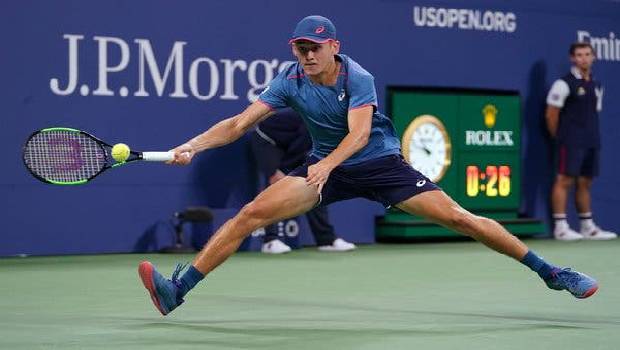 Alex De Minaur and Nick Kyrgios chased Great Britain out of ATP Cup with a score of 2-1 on Thursday 9th January 2020. The pair have never played together but are spotted ranked players in the field. Also, that Lleyton Hewitt's last-minute stunt was to put the players in the doubles for winning the game. The Australian players are now qualified to have a semi-final against Rafael Nadal from Spain or Belgium's David Goffin.
Kyrgios serve in singles against London player Cameron Norrie was applaudable, as it conflicted in the opponent's receive of service. However, Nick Kyrgios wasn't satisfied with his initial services, so he had to use a trick to get the job done. Then the Australian nominee pulled an underarm serve, a traditional practice made the opponent unsure of the game flow, and so he stroked the rubber to the unexpected spot. 6-2, 6-2 against Great Britain won him the ATP Cup singles in the inaugural series.
De Minaur lost the singles to the British player Dan Evans 29 years old for a tough game. A decade difference among the players had begun their series with love Evans and 1 De Minaur, but the scores were soon escalated and the British player won the set. The battle between experienced and talent was witnessed in this game. At every opportunity, Evans's play was proved and De Minaur played with his skills as well. De Minaur did find the thin line against his opponent but slipped in when the pressure exceeded the time which resulted as Evans 7-6,4-6,7-6. Hence the Australian ATP Cup captain decided to switch the players for doubles game, because of the uncalculated single's loss.
The Doubles between Great Britain representing Jamie Muray and Joe Salisbury vs Australia De Minaur and Kyrgios brought the viewers to the court for a thrilling quatre-finals game. After Great Britain 6-3, and 3-6 sets, the team faced a conclusive tie-breaker where they fought more or less 30 minutes of time in the court.
When climbing the 3rd set London single's player to serve on 16-17 points declared the Australian team's win by 2-1. The win was celebrated by hugs and shoulder-lifts, even forgetting to shake hands with the opponents. Kyrgios said that this was his toughest tie-breaker which deserves red-win tonight since it was the stressful matc