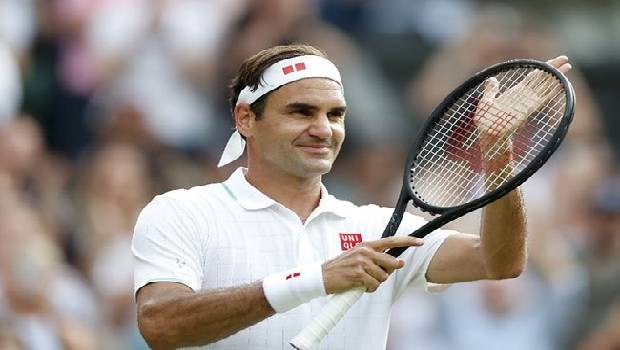 Roger Federer defeated Lorenzo Sonego in the Round of 16 on Monday and reached the quarter-finals of the Wimbledon 2021 Championships for the 18th time. The 39-year-old Swiss player became the oldest one to reach the quarter-finals of the Wimbledon since the start of the Open Era in 1968. Roger Federer is an eight-time Wimbledon Champion.
Roger Federer, who will be turning 40 in another five weeks' time easily out-played Italy's Lorenzo Sonego. Federer beat him 7-5, 6-4, 6-2 and sealed the spot in the last eight at the All England Club. Roger Federer reaches the quarter-finals for the 18th time, the highest for any player at a single tournament.
Federer has enjoyed the most success in the grass-court tournaments, having won the Grand Slam on a total of 8 occasions. It's been 22 years since Federer first played in the Wimbledon Championship. He is the oldest man to enter this particular Grand Slam but when it comes to all majors Federer is the third-oldest after Pancho Gonzales and Ken Rosewall.
Roger Federer, a maestro tennis player has continued to play strong even at the age of 39. After a lucky escape in the opening round of the Wimbledon, Federer has come back so strong with his peak of powers and experiences and qualified for the quarter-finals of the tournament. It would also be Federer's 58th quarter-final Grand Slam match, an Open Era record. Federer has 18 quarterfinals at Wimbledon, 15 at the Australian Open, 13 at the US Open, and 12 at Roland Garros.
After the win, Roger Federer said he is so excited to be in the quarter-finals. It is a very big moment and he is so happy about that. Federer added he was able to control things after the first set and enjoyed the game. The last 16 matches of the Wimbledon (both men's and women's) took place on the same day, so it's been called 'Manic Monday'. From next year, matches will be played on middle Sunday, which has been the rest day in the tournament.
Roger Federer will be facing the winner of the match between Daniil Medvedev and Hubert Hurkacz in the last 8. Daniil Medvedev was just one set away beating Hubert Hurkacz but the match was suspended due to rain and rescheduled to Tuesday. Federer said it is unfair to anyone but these players are young so that they can recover soon and would not need much rest.