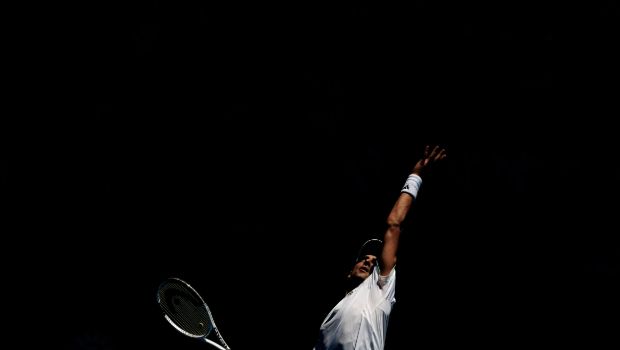 World No.1 Novak Djokovic registered clinical straight sets 6-3, 6-2 win over Andrey Rublev in Turin. Novak Djokovic became the first player to seal a spot in the semis of the 2021 ATP Finals. The Serbian star advanced into the last four of the ATP Finals for the 10th time after sealing a comfortable victory over the fifth seed Rublev. Djokovic recorded his 50th win of the year with a dominant play. The top-ranked player is chasing a record-equaling sixth trophy at the season-ending event.
Novak Djokovic hopes to level the record of Roger Federer. Roger Federer leads the list with six titles at the ATP Finals. World No.2 Daniil Medvedev won the Red Group on Tuesday. An exciting World No. 1 versus No. 2 final is on the cards on 21st November. The seven-time year-end No. 1 player in the ATP rankings will look to carry his momentum against the British alternate Cameron Norrie. Norrie has replaced Stefanos Tsitsipas after the Greek player pulled out due to an elbow injury.
Djokovic, who has won his last six matches, was ruthlessly efficient and dominated from the start. Djokovic was perfect on his serves, but the Russian managed to break him in the opening game. The 20-time Grand Slam champion was too strong for Rublev, serving 14 aces and hitting 19 winners to surpass his overpowered opponent. The Serb never allowed Rublev to get grips with his serve. Djokovic broke Rublev twice in each set and won the match in just 68 minutes.
Djokovic mostly directed the shots away from the Russian's forehand, which is his biggest weapon. Rublev failed to capitalize on an early service break. The top-seed drew Rublev to the net and broke for a 5-3 lead with a perfect backhand winner. After the first game, Djokovic served with greater confidence and sealed the opening set with an ace. He won 88 percent of his first-service points in the set.
Djokovic won 34 of 48 deliveries in the First ATP meeting with Rublev. Djokovic settled well in the fifth game of the second set with his trademark shot. The Serbian fired an inch-perfect backhand winner down the line. Djokovic produced top-class tennis and through six games, only one point went down over nine strokes.
While Djokovic won 81 percent on his first serves, Rublev had just 56 percent. Djokovic won the match without any double faults. The Serbian star has not won the ATP Finals since 2015. He lost the championship matches in 2016 and 2018 to Andy Murray and Alexander Zverev.