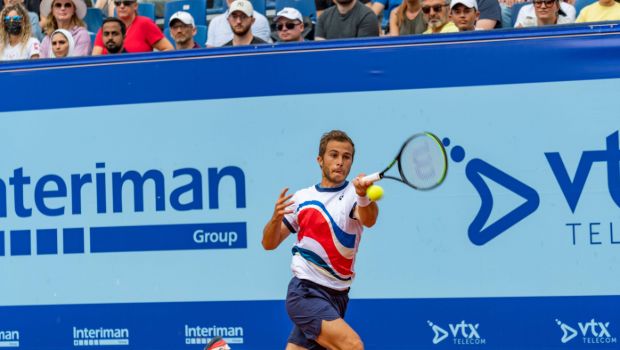 Hugo Gaston celebrated his shattering comeback win against Carlos Alcaraz at the Rolex Paris Masters. Hugo Gaston continued his dramatic week of returns by defeating the young Carlos Alcaraz in straight sets 6-4, 7-5. Gaston battled well to clinch a breathtaking victory over compatriot NextGenATP star Alcaraz. The Frenchman keeps stunning everybody in Paris. Coming in as a qualifier, the French star is now the lowest-ranked player (103) to reach the quarter-final of the tournament since Michael Llodra in 2012.
Hugo Gaston played inspired tennis in front of the energetic Parisian fans to snuff out a stubborn test from Alcaraz. Gaston was excellent from the start; he saved two match points in the first round of qualifiers against former Wimbledon and US Open finalist Kevin Anderson. Gaston then came from a set and a breakdown to beat the teenager Lorenzo Musetti to advance to the main draw.
The world no. 103 Gaston rallied 0-5 in the second set to win 20 of the game's last 21 points to stun the 18-year-old Spaniard Alcaraz. The Frenchman Gaston will battle against Daniil Medvedev for a spot in the semi-finals. Defending Champion Medvedev advanced to the quarter-finals by defeating Sebastian Korda 4-6, 6-1, 6-3.
Carlos Alcaraz kept collapsing each time when he had chances to put a dominating hand. In the first set, he was up a beak at 3-1 but lost it by making unwanted errors. Alcaraz repeated the same at 4-2 of the first set. Alcaraz was up 5-0 in the second set before totally losing it. The Spaniard's coach Juan Carlos Ferrero could do nothing to help him on the court. Finally, he was unable to lean on experience and failed to deliver well.
Hugo Gaston had an incredibly cold brain and some nerves of steel. Gaston never started to rush neither confronted with Alcaraz's power nor when he was behind in the second set. He kept playing his natural game with good variations, drop shots, and retrieving all the balls. Gaston was brilliant with counter-punching the first short ball and moving forward.
Hugo Gaston was much more creative than Alcaraz. He was much more inspired and swinging freely in his play. While Gaston won 69 percent of first serves, Alcaraz had just 47 percent. Hugo Gaston won 17 points in a row to secure a comeback win in the second set. The 21-year-old lefty stayed focused to overturn the match in his favor.