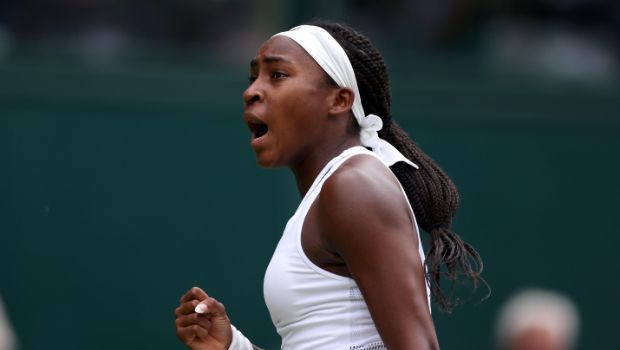 Coco Gauff, the youngest player remaining in the US Open tournament, survived a tough challenge from the oldest, 33-year-old Zhang Shuai. On Sunday in Arthur Ashe Stadium, American teenager Gauff produced her superior speed to overcome a second-set deficit and pulled off a stunning straight-set 7-5, 7-5 win over Shuai to reach the quarterfinals for the first time at her home major. The 18-year-old American battled past Shuai to take another big step towards fulfilling her dream of winning the US Open title.
Gauff will face Frenchwoman Caroline Garcia in the quarter-final clash tomorrow. Garcia defeated American Alison Riske-Amritraj in a straight set 6-4, 6-1to reach the last 8. Gauff, who reached the final of the French Open in June, was forced to work hard for her victory against the skillful Chinese veteran Shuai.
Shuai paid the price however for a lack of composure at crucial moments. Gauff, the 12th-seeded youngster started the match slowly and nervously. Unusually, it was her more dependable backhand that let her down during the early stage of the opening set. Despite being outplayed for much of the first set, Gauff recognized the enormity of the opportunity in front of her and came back strong.
Down 4-5 in the first set, Gauff reeled off nine of 12 points and three games in a row to secure the set. The teen played a backhand down the line on set point, electrifying the pro-American crowd.
The roof was closed after heavy rains hit Flushing Meadows at the start of the second set. The lights came on and it became an indoor match. Both sets featured a series of long, high-velocity crosscourt exchanges, which Gauff got the better of as the match wore on.
Showing some astonishing speed around the court, the home favorite saved a couple of break points to level the score. The American continued to run down balls that other players would simply not get near. However, the Chinese clung on to hold serve and lead 3-2.
Shuai held on to lead again 4-3 with some confident and impressive play. Gauff hit straight back with her break of serve, playing some stunning stuff to make it 5-5. With pure determination, Gauff broke and served out for the match. Gauff leaped into the air as Shuai dumped a volley. Gauff belted a few tennis balls into the cheering crowd and got another massive ovation for her phenomenal play.