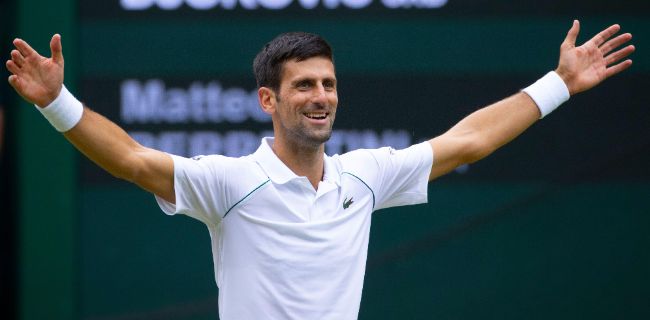 The Serbian star Novak Djokovic clinched a record 10th Australian Open title and will return as the World No.1 player after registering a stunning straight-set victory over Greek's Stefanos Tsitsipas. Djokovic's unfaltering energy and determination helped him to triumph over the Greek top seed 6-3, 7-6(4), 7-6(5) to claim his 22nd Grand Slam title and equal the current men's record set by Spain's Rafael Nadal. Djokovic will begin his record 374th week as the world No.1 from Monday. For the most part, it was one-way traffic for the 35-year-old Serbian who produced his usual godlike standard of tennis throughout the clash.
Djokovic has secured 93 career singles titles after winning the 2023 Australian Open to move ahead of arch-rival Nadal and into fourth place on the all-time list.
The Serbian's 10th Australian Open title also helped him to edge Nadal in the list of the top 10 men's title winners in the Open Era. It is no longer a question of whether he will move to 100 titles, but when. Djokovic is just one adrift of the third-placed Ivan Lendl (94) with Roger Federer also in his sights. Beating Connors' overall record of 109 will no doubt be on that list of things he wants to achieve.
Tsitsipas tried well and gave his best to stay in the contest. The 24-year-old Greek player had his chance in the second set tiebreak after setting up a set point but a ruthless forehand from Djokovic prevented him from leveling the match. It was much the same in the third set tiebreak as Tsitsipas struggled to find much momentum against the relentless consistency coming from his opponent. After three championship points, Djokovic sealed a historic win despite being hampered by a hamstring injury which, at times, threatened to derail his quest for another major.
After completing an extraordinary redemption arc to win the title, Djokovic dropped to the floor and wept inconsolably with his team. In the Trophy ceremony, Djokovic said the 2023 Australia Open has been one of the most challenging tournaments he has ever played in his life considering the circumstances, not playing last year, and coming back this year.
The Melbourne King stated that this is probably the biggest victory of his life, considering those circumstances. Djokovic thanked all the people who made him feel welcome, feel comfortable to be in Australia. The Serb concluded that it was a long journey, only his team and the family know what they have been through in the last four or five weeks.