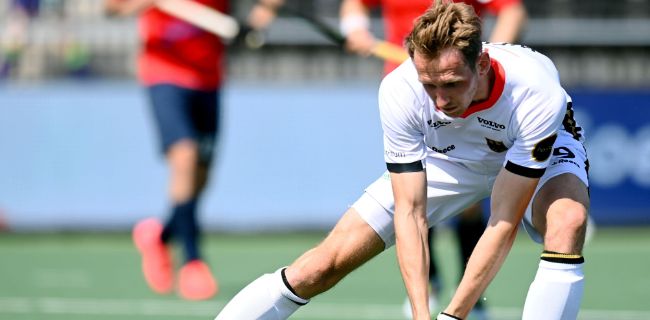 Germany scripted an incredible penalty shootout win over Belgium to be crowned as the FIH Hockey Men's World Cup champions. Famously known as comeback King, Germany produced yet another stunning comeback from a two-goal deficit to beat the defending champions Belgium on Sunday. The Germans became three-time champions after ending Belgium's dominance in global hockey in the last five years. The two sides were locked 3-3 at the end of regulation time of the thrilling final before Germany eventually won 5-4 in sudden death in front of a packed Kalinga Stadium.
This was the third time in the tournament that Germany had secured a win after trailing 0-2. The German's mental strength and their never-say-die attitude came to the fore again as they denied the Belgians to defend their title. Germany joined Australia and the Netherlands to have clinched the World Cup title three times. Their earlier triumphs had come in 2002 and 2006.
Belgium got off to an excellent start as Florent van Aubel scored in the 9th minute to give his side an early lead. Very soon, Belgium doubled their lead through Tanguy Cosyns, who got down on his knees and tapped in an Antoine Kina cross from the left. Germany took a referral for a back stick but the video umpire ruled against them.
Despite missing a penalty stroke, Germany pulled one back through Niklas Wellen in the 29th minute. Gonzalo Peillat then stepped up to the task in the 40th minute and made it 2-2 through a penalty corner. Germany captain Mats Gramsbusch then gave his side a first lead in the 48th minute and looked to seal another comeback win after beating Australia and England in a similar fashion earlier on in the tournament.
But Belgium continued to apply pressure into the German circle and their persistence paid off in the 58th minute as Tom Boon scored from a penalty corner to make the scores level 3-3 and pushed the summit clash into a shootout.
Germany and Belgium scored from their first attempts but Arthur de Sloover missed his chance to give Germany the advantage. Hannes Muller then scored to make it 2-1. Marco Miltkau missed his shot while Cosyns scored to make it 2-2. Thies Prinz then scored with his chance to make it 3-2 and Antoine Kina quickly equalized.
Wellen and Aubel made it 4-4 to heat up the tension. Frinz then converted a spectacular effort to make it 5-4 and Belgium missed their final shot as Germany emerged as the winners.