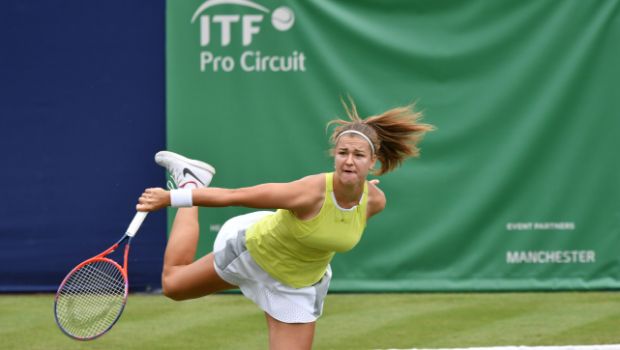 Karolina Muchova might have won in straight sets if she had been playing someone else. But this was World No.1 Iga Swiatek in a repeat of the French Open final two months ago, which was delayed by two weather delays totaling more than nine hours. The outcome, however, was the same as Swiatek prevailed over Muchova in three sets 6-1, 4-6, 6-4, and advanced to the quarter-finals of the Omnium National Bank tournament in Montreal. As a result, Swiatek will remain No.1 when the new Hologic WTA Tour rankings are released on Monday, that's 72 weeks in a row and still counting.
Despite an uncharacteristic lull in intensity in the second set, Swiatek delivered her best to edge past the 26-year-old Czech player. Swiatek is the first player to win 40 or more WTA 1000 matches in a two-year span (24 in 2022 and 17 in 2023) since Simona Halep in 2018-2019 (23 and 18).
Swiatek won six of the seven games in the first set, but that number did not reflect the extraordinary level of play on both sides. Muchova was in most of the points, but she succumbed to Swiatek's continuous siege. In the third game, Muchova had two break points, but Swiatek served her way out. Muchova double-faulted when Swiatek had a breakpoint in the fourth game.
Swiatek saved another break point at 3-1 with another fantastic serve, and Muchova answered with two wayward forehands. The sixth game was the best of the match, with Swiatek scoring her second break of service after five deuces. Swiatek saved all four break points against her in the set, while Muchova went 5-for-7.
The second set was a complete 180-degree turn, with Muchova wasting both break points against her and Swiatek going 0-for-3 with a misfiring forehand. Muchova, like in the Roland Garros final, leveled the match.
As the rain fell in Montreal, both players had plenty of time to cool down and prepare for the decisive third set. Swiatek swiftly broke Muchova to take a 1-0 lead when they returned and then the rain came back. Swiatek eventually managed to hold and take a 2-0 lead. That margin held for the rest of the race. She finished by holding at love.
World No.2 Aryna Sabalenka will take on No.15 Liudmila Samsonova on August 11, Friday to earn a spot in the last 8. In another encounter, No.7 seed Petra Kvitova will face No.12 Belinda Bencic.