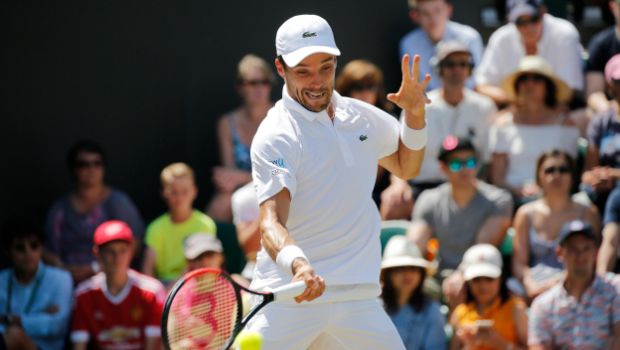 Roberto Bautista Agut played a much better game to upset the defending champion, Daniil Medvedev, in Mallorca. Bautista Agut proved to be a better player on the day and took advantage of Medvedev's lack of patience in the match. World no.1 Medvedev will remain without a title on grass this season after a straight-sets loss to the Spaniard in the quarterfinals of the Mallorca Championships. Bautista Agut crushed the top-ranked Russian 6-3, 6-2 to reach the semi-finals and also earned his fourth win against a World no.1 player. Bautista Agut's previous three victories came against Novak Djokovic.
Medvedev won his maiden grass trophy at the Mallorca Open last year but this season he failed to defend it as the Spaniard avenged Medvedev for his defeat in Halle Open. Just last week, the Russian star cruised past Bautista Agut on the grass in straight sets at the Terra Wortmann Open in Halle. But on Thursday, the story was different as the Spaniard overturned the script.
Medvedev took great advantage of his serve and found his momentum to easily cruise past Bautista Agut in Halle. But the condition in Mallorca was different and with more wind, Medvedev's serves were not much effective. The Russian ace never found his footing properly. Medvedev seemed as if he was not much concerned about the loss.
It was not the first time that the 34-year-old Spaniard has troubled Medvedev. Earlier, Bautista Agut won their three previous meetings with the loss of just one set. Medvedev use to frustrate his opponents with a solid play. The Russian puts them under pressure with his flat strokes and big first serve throughout the match. But this time it was Bautista Agut who frustrated Medvedev a lot. As a result, Medvedev made uncharacteristic errors to go down.
The Russian had only one break opportunity against the 20-th ranked Bautista Agut. Usually, Medvedev is strong in playing extended rallies against any player on the Tour. But in the quarterfinal, he tried to change the rhythm with drop shots and other plays. However, the Spaniard remained in his comfort zone and delivered a clinical performance to triumph in 71-minutes.
Bautista Agut will play Antoine Bellier in the semifinals. Bellier, a 303rd-ranked Swiss qualifier defeated Dutchman Tallon Griekspoor 5-7, 7-6 (5), 6-2 to become the lowest-ranked semifinalist since then-No. 335 Juan Manuel Cerundolo triumphed in Cordoba in 2021.