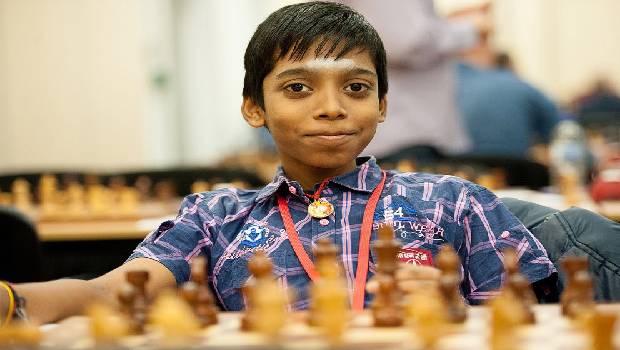 R. Praggnanandhaa never stops to astound. The straightforwardness with which the 14-year-old forfeits his rooks for religious administrators, as he did during his successes in the second and fourth adjusts of the World junior chess title, underline his profound perusing of the given positions.
In the wake of being incredibly held by England's Ravi Haria in the first part of the day round, Praggnanandhaa released an uncommon twin rook-penance before putting the completing contacts with his sovereign and diocesan pair to end Mongolian Dambasuren Batsuren's opposition in 44 moves.
With seven of the main eight sheets finishing off with draws, Praggnanandhaa joined Ukraine's Evgeny Shtembuliak and Spain's Ruiz Miguel Santos. Indeed, the twofold round day saw the more grounded players recuperate in differing degrees from the misfortunes of the most recent two days. There was likewise an irregular walkover from the eleventh seeded Iranian Aaryan Gholami when set against Israel's Alexander Zlatin in the fourth round. Since there have been numerous events in chess a challenge between players of these two nations have remained non-starters, Gholami took nothing to risk and even created a therapeutic endorsement to demonstrate his indisposition.
Among the young ladies, Arpita Mukherjee overwhelmed a brilliant opportunity to win and lead the pack against colleague N. Priyanka yet made due with a draw. Prior, Mongolian Boldbaatar Altantuya led the pack with four straight successes. The successful Rakshitta Ravi (3.5) moved to the joint second spot while Praggnanandhaa's sister R. Vaishali (3), seeded five, was held by Russia's Elizaveta Solozhenkina.
Third round: Haria (2.5) drew with Praggnanandhaa (2.5); M. Karthikeyan (2.5) bt Aaryan Varshney (2); R.K. Srihari (2) drew with Kollars (2): Vid Dobrovoljc (Slo, 1.5) lost to P. Iniyan (2.5). Aditya Mittal (2) bt Arno Sterck (Bel, 1); Aravindh Chithambaram (1.5) bt Amir Ghaazi Mohd Saprin (Mas, 1).
Young ladies: Fourth round: Boldbaatar Altanutuya (Mgl, 4) bt Michelle Katkov (Isr, 3); N. Priyanka (3.5) drew with Arpita Mukherjee (3.5); Elizaveta Solozhenkina (Rus, 3) drew with R. Vaishali (3); Vantika Agarwal (3) drew with Divya Deshmukh (3); Mrudul Dehankar (3) drew with Gabriela Antova (Bul, 3); Rakshitta Ravi (3.5) bt V. Toshali (2.5). Third round: Dinara Dordzhieva (Rus, 2) lost to Priyanka (3); Mrudul (2.5) drew with Rakshitta (2.5); Arpita (3) bt Marian Avetsyan (Arm, 2); Vaishali bt Saloni Sapale (1.5); Divya (2.5) bt G. Harshita (1.5).