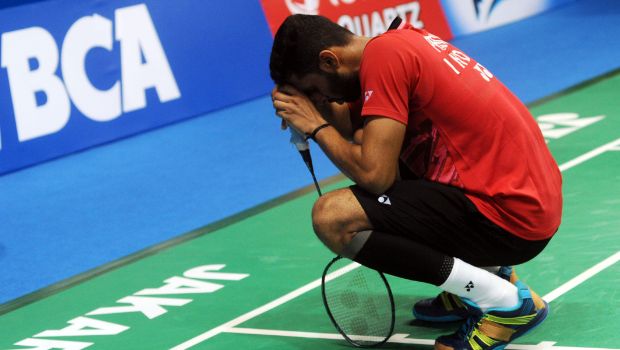 Indian star shuttler HS Prannoy finished second to China's Weng Hong Yang in the Australian Open men's singles final on Sunday, capping off an outstanding week. Prannoy was defeated 9-21, 23-21, 20-22 by world no.24 Weng, depriving him of a chance to capture his second BWF title of the season. With the victory, Weng, 24, who won the Korea Open last year and the 2019 China Masters, closed the gap on Prannoy after losing in three games to the Indian in the Malaysia Masters final in May.
Prannoy has recovered from an opening game defeat eight times this year and won the match six times, including in the quarterfinals against World No. 2 Anthony Ginting. Things were looking well until Weng launched a stunning comeback from 14-19 down in the decider.
The 31-year-old Indian recovered from an opening-game loss but squandered a five-point advantage in the decider and a championship point to come second to Weng. Prannoy made too many mistakes in the first game, while Weng exploited his jump smashes to pull away from 6-6. Prannoy sprayed into the net again, giving the Chinese 12 game points as the Indian continued to miss his shots. When Prannoy went long, the Chinese transformed it.
Prannoy likes such high-pressure situations and once again demonstrated his anxieties. Weng took a 3-0 lead, but the Indian cut it to 2-4 with a powerful smash. Prannoy evened the score at 7-7 with a smash and took the lead after Weng's forehand went wide, which Prannoy followed with another smash. At the break, the Indian seized a three-point lead with a forehand leap smash.
Weng had some excellent placements, but Prannoy maintained his lead at 13-11 with another cross-winner. With another assault at the backline, the Chinese kept breathing down his opponent's neck and clawed back at 15-15 with a body smash. Weng smashed Prannoy's forehand and quickly reclaimed the lead at 17-16. The score was 19-19 after a series of dramatic rallies when Weng had a medical break.
On the restart, Prannoy hit a whipping backhand for a game point, but it sailed wide. After making a diving stop on his left, the Indian earned another game point. Weng saved it yet again with a deep cross smash. Prannoy took a healthy lead in the third game after two precise returns on his opponent's backhand. However, a couple of unforced errors by the Indian allowed Weng to bounce back and triumph the match.