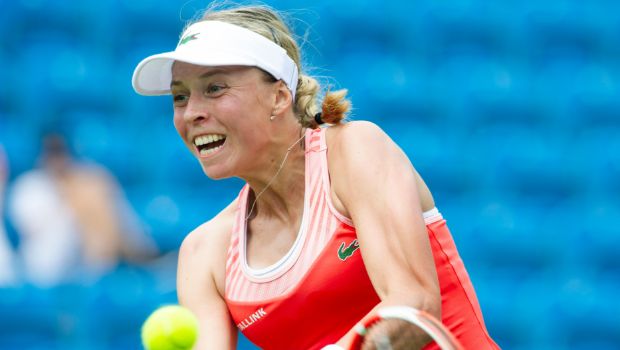 Former World No.2 Anett Kontaveit announced that she will retire from tennis after Wimbledon because of a back injury. Kontaveit had an excellent 13-year career on the Hologic WTA Tour.
Kontaveit confessed that she has lumbar disc degeneration and the same does not allow for full-scale training or continued competition. While 2022 was an outstanding year for the Estonian, 2023 has not turned out as well, as a back injury prevented Kontaveit from competing at the top level. She endured a second-round exit at the Australian Open and a first-round exit at the French Open.
Today I am announcing that I am ending my career as a competitive athlete, she posted on Instagram. After several doctor's visits and consultations with my medical team, I have been advised that I have lumbar disc degeneration in my back. This does not allow for full-scale training or continued competition, she added.
Therefore, it is impossible to continue at the top level in such a highly competitive field, the 27-year-old Estonian expressed. Tennis has given and taught me a lot, and I am very grateful for that, she continued. It has been important for me to bring the Estonian flag to the tennis courts and to be able to play in front of my supporters and fans all over the world, she said.
I am ready for new challenges after my last effort as a professional tennis player, to enjoy the game and compete as hard as I can at Wimbledon, she stated. Kontaveit concluded by thanking everyone for their continuous support. Kontaveit's best result in a grand slam tournament was reaching the quarter-finals of the 2020 Australian Open, where she defeated Belinda Bencic and World No.1 Iga Swiatek back-to-back en route to the elite eight.
Kontaveit made her WTA debut in 2012 and went on to capture six singles titles from 16 finals during her career. The Estonian also reached the championship match at the 2021 WTA Finals in Guadalajara and rose to her career-high ranking of No.2 in June of 2022.
Kontaveit pulled off a stellar stretch of play at the end of the 2021 season, where she went 29-4 in her last eight events of that year, winning four titles during that period. She also made WTA 1000 finals at 2018 Wuhan and 2022 Doha. Wimbledon, a Grand Slam event at the All England Clun in London starts on July 3.