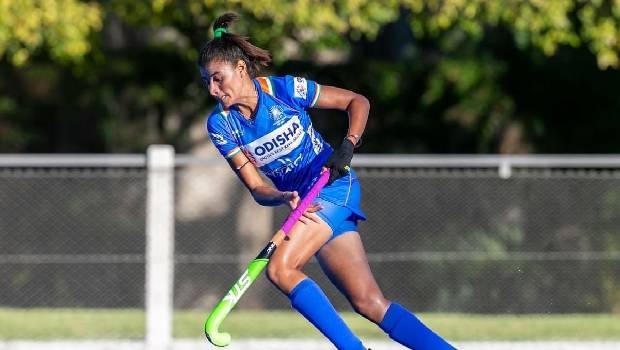 Great Britain defeated India 4-1 in a Pool-A hockey match at the Tokyo Olympics on Wednesday. The British women had a convincing victory over the Indians. After a loss in the first game, the defending champions have won two consecutive matches in their group at the 2020 Olympics. Britain Women's hockey team is proving themselves as the best to retain their Olympic title.
Great Britain dominated the game with more possessions and aggressive attack. Two goals from Hannah Martin and a goal each from Lily Owsley and Grace Balsdon guided Great Britain to a dominant victory over the Indian women's hockey team. For India, Sharmila Devi scored the lonely goal. Indian Women have lost all three matches and their chances of sailing into the quarter-finals look deserted.
Britain's Hannah Martin shocked the Indians with a goal in the second minute of the match itself. Indian goalkeeper Savita Punia failed to deal with a cross as the ball took a deflection off an Indian defender and Hannah scored from a close range to give an early lead. India failed to score from a penalty corner in the 12th minute and ended the 1st quarter trailing 1-0.
Hannah Martin scored again in the 19th minute of the game. Sarah Jones took the initial shot, which was saved. But Hannah shot the ball cleverly as it went straight through the legs of Savita. Later on, India scored the first goal from a penalty corner. India's designated drag-flicker Gurjit Kaur flicked the ball and Sharmila Devi stuck out her stick at a close range to score past the British keeper Maddie Hinch. Britain's defender Fiona Crackles went down to the ground after receiving a heavy blow on her head and left the field for further check.
This time it was a penalty corner for the British in the third quarter. The drag-flick was saved initially but the rebound went back to Lily Owsley, who scored the third goal for her team. The referee gave a penalty stroke for the British side after Sushila Chanu blocking the ball with her body. Defender Grace Balsdon stepped up to score it successfully and helped her team to a 4-1 victory.
Indian Women displayed poor play as they failed to score from the penalty corners every time. The Indian women had as many as seven penalty corners throughout the game but converted only one as a goal. Great Britain will face the World No.1 Netherlands on Thursday, while India will take on the fourth-placed Ireland on Friday.