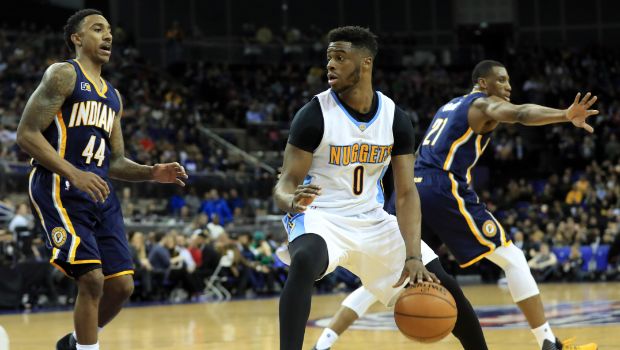 Denver Nuggets won their first NBA championship title, outclassing Miami Heat 94-89 in Game 5 of the NBA Finals at Ball Arena. Two-time MVP Nikola Jokic inspired the Nuggets from the front with a game-high 28 points and 16 rebounds. The 28-year-old Serbian big man was voted Most Valuable Player of the NBA Finals and is the first center to win the award named after the late Bill Russell since Shaquille O'Neal of the Lakers in 2002.
Hours after the game, at least nine people were injured in a mass shooting in downtown Denver, where crowds had gathered to celebrate their franchise's first NBA championship. Fireworks exploded outside the Ball Arena at the final buzzer. Denver is now the home of the Larry O'Brien Trophy for the first time in the franchise's 47 years in the league.
The Nuggets' win was a horrifying grid. The home team struggled a lot to shake or shatter the high-level confidence of the Miami Heat. Denver initially found it so hard to shoot from the distance, shooting just one successful 3-pointer from 15 attempts in the first half. The tenacious Heat's zone defense was causing obvious discomfort.
The Nuggets missed 20 of their first 22 3-pointers. They missed seven of their first 13 free throws. They led by seven late, before Heat's Jimmy Butler went off, scoring eight straight points to give the Heat a one-point lead with 2:45 left. Butler made two more free throws with 1:58 remaining to help Heat regain a one-point lead. Then, Bruce Brown got an offensive rebound and tip-in to give the Nuggets the lead for good.
Trailing by three with 15 seconds left, the 33-year-old American then stirred up for a 3 but missed it. Brown and Kentavious Caldwell-Pope made two free throws each to put the game out of reach and clinch the title for Denver. Butler finished with a team-high 21 points, 3 rebounds, and 5 assists for the Miami Heat.
It was an amazing effort from the team. Initially, it was an ugly game, we could not make shots, but in the end, we figured out how to defend. That's why basketball is a fun sport. It's a live thing. You cannot say, this is going to happen. There are so many factors. I'm just happy that we won the game, Jokic said. Meanwhile, Nuggets coach Michael Malone hailed Jokic for establishing himself as one of basketball's best-ever centers and also as a great person.