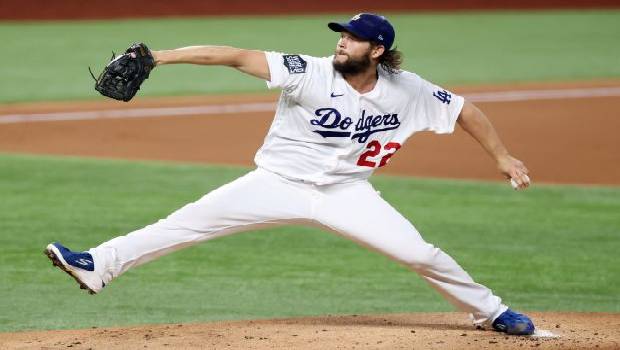 As Clayton Kershaw took the mound on Sunday night, he steadied his team with a sensational performance, plus one particular pitch that will long be remembered. Now with one game away from victory, the Dodgers would claim their first title since 1988.
In six days, Kershaw has beat the Rays for the second time. He faced a challenge in the fourth-inning but escaped it with a quick throw to get the out of the runner who tried for a steal to home. Finally, the Dodgers held on for a 4-2 win and a 3-2 Series lead.
Mookie Betts and Corey Seager began the scoreboard running for Dodgers with a two-run first inning later Pederson hit a 428-foot homer on a fastball for a 3-0 lead in the second while Max Muncy hit another home run to take the team's score to 4.
Historically out of the 46, 30 teams who won Game 5 with a 3-2 lead have gone on to win the title, but recently it has reduced to just six out of the last 14. Last year Houston Astros had wasted a 3-2 lead.
Dodgers do not have an obvious pitcher yet to start Game 6 on Tuesday while Blake Snell will start for Tampa Bay.
Kershaw with a 175-76 regular-season record, five ERA titles and an MVP, ranks alongside some of the Dodgers greats. In this year's and 2017 World Series openers Kershaw has shown us some stellar performances from the mound.
He ended his game by giving two runs and five hits with six strikeouts and two walks. In this Series, he's 2-0 with a 2.31 ERA in 15 2/3 innings over two starts with 14 strikeouts and three walks. Kershaw also set a career post-season record with 207 strikeouts, two more than Justin Verlander's feat.
After a 3-0 lead, Kershaw gave up two runs in the third inning when Rays hitters Kevin Kiermaier singled, Yandy Diaz tripled and Arozarena's singled. The lead came down to just a run but thanks to Muncy Dodgers raised it to two runs in the fifth inning.
Rays' Glasnow allowed four runs and six hits in the five innings he pitched, leaving him 0-2 with a 9.64 ERA in the Series. The two homers raised his total to a record nine in a single post-season.