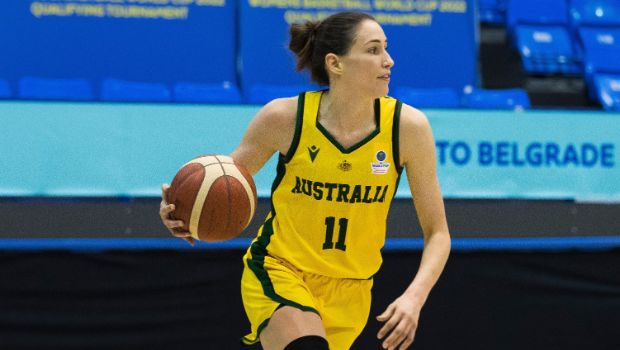 Australia's Opals claimed a crucial 69-54 win over Serbia at the Women's Basketball World Cup. The Opals produced their most impressive performance to outplay Serbia and registered their second win of the tournament in Sydney. Clinching a much-needed victory, the Opals have boosted their hopes of progressing to the knockout rounds. But Australia's victory was soured by a brutal injury to their key star player Rebecca Allen. Allen was instrumental in the game and scored 16 points.
But her status for the rest of the tournament is a big question after getting hurt in the fourth quarter. Allen was diving for a loose ball in front of the Australia bench when she took a knee to her midsection. She was down on the court for a few minutes before she was helped off by team trainers. Allen was later taken in a wheelchair to the back with about 20 seconds left in the game.
Australian women exacted revenge on their recent rivals, who knocked the Opals out of the Rio Olympics and beat them again at the qualifying tournament earlier this year. The Aussies had a comfortable 36-28 halftime lead but Serbia roared back from 18 points down to give the Opals a scare with some excellent shot-making. But the home side settled and delivered a strong defensive play to earn a comfortable win.
The Opals' dominated with a stellar defense and forced Serbia into five shot-clock violations in the first quarter. Lauren Jackson scored five points to give her side an 8-point lead while Serbia managed to score just 10 points. Serbia fought back in the second quarter when Yvonne Anderson produced a clinical performance and finished half-time with 14 points.
However, the Aussies led the game by eight points and started to pull away in the third quarter. The Opals' Guard Sami Whitcomb, who added 10 points, left the court in the third quarter when she took a shot to her nose, opening up a cut. She sat out for a few minutes and returned. Serbia never really threatened the rest of the game. Anderson scored 16 points and led Serbia from the front.
The Opals now have a 2-1 win-loss record. The Aussies have to win their final two group games against Canada and Japan, to seal a berth in the quarter-finals. The Opals will be sweating on Allen's fitness before they face Canada on Monday night.