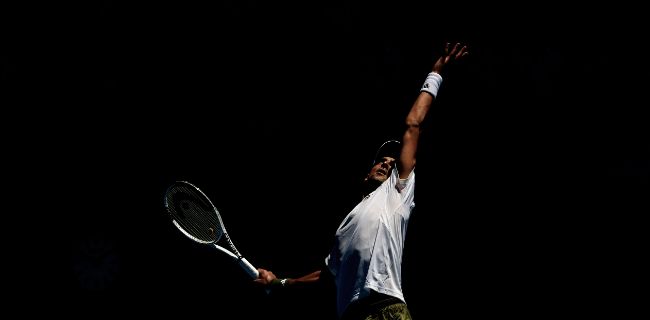 Serbian star Novak Djokovic is now the all-time record holder in both men's and women's tennis as he has started a 378th week at the No.1 position to surpass former German legend Steffi Graf's milestone. The 22-time Grand Slam winner has been leading the way in men's tennis in terms of weeks at No.1 since March 2021 when he outclassed Roger Federer's mark of 310, giving him 68 weeks and counting advantage at the top.
Of course, it is surreal in a way to be that many weeks world No.1, to match Steffi Graf, who is one of the all-time greats of our sport, both men and women, said the 35-year-old Serbian, who returned to No.1 by winning the 2023 Australia Open. Djokovic admitted that just being amongst these legendary names is flattering and he feels very proud of it. Top seed Djokovic will open his bid for a sixth Dubai title against qualifier Tomas Machak tonight (February 28) at Centre Court.
Carlos Alcaraz remains at the No.2 spot despite finishing runner-up at the Rio Open. Alcaraz, who started the 2023 season at No.1, had a chance of drawing level with Djokovic at the top on 6,980 points, but the Serbian won the tie-breaker as he has more points from Nitto ATP Finals, Grand Slams, and ATP Masters 1000s.
With Cameron Norrie beating the Spaniard in the Rio Open final, Alcaraz found himself 200 points behind Djokovic with Stefanos Tsitsipas, Casper Ruud, and Taylor Fritz completing the top five. For the first time in his career, America's Fritz has reached the top five even though he did not play last week. The 25-year-old American moved up two places on the back of Andrey Rublev's quarter-final loss in Dubai.
Russia's Rublev dropped one place to No.6 while his compatriot Daniil Medvedev is back in the top 10 at No.7 after winning the Qatar Open on Saturday. Meanwhile, 22-time Grand Slam winner Rafael Nadal has slumped to No.8, the 36-year-old Spaniard's lowest position since January 2017 when he was No.9. Nadal, who is currently sidelined with a hip injury, could drop out of the top 10 next week if those below him enjoy extended runs at the Dubai Tennis Championships or Mexican Open. The last time Nadal was outside the top 10 was in April 2004.
Felix Auger-Aliassime and Holger Rune complete the top 10 while Norrie moves up one spot after defeating Alcaraz in the Rio Open final.