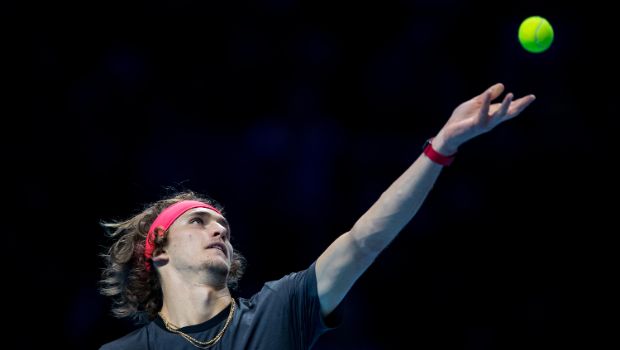 Alexander Zverev defeated defending champion Daniil Medvedev to win the ATP Tour finals title. Alexander Zverev outclassed Daniil Medvedev in straight sets. Surprisingly, it was a one-sided final in Turin. The German star clinched a 6-4, 6-4 victory over the World no.2 Medvedev. Zverev played brilliantly to earn the second ATP Finals title in his career. The 24-year-old German has won six titles in six finals this year. Zverev became the fourth player to beat the top two players in the world in the semis and final of the season-ending event. He joined Ivan Lendl (1982), Stefan Edberg (1989), and Andre Agassi (1990).
Earlier, the German stunned the World No.1 Novak Djokovic in semis. The German took revenge for his loss to Medvedev in the round-robin stage. Zverev, who came into the match having lost his last five meetings against the Russian, broke his losing streak with a dominant play. Alexander Zverev, the Olympic gold medalist won the ATF Finals back in 2018 when he defeated the Serbian Djokovic. Zverev took just 1 hour and 16 minutes to surpass the US Open Champion.
Zverev will be a major force in 2022 as he posted a 32-4 win record since his Olympic Gold triumph in Tokyo. Zverev made a superb start with some magnificent serving and aggressive returns. The German also had a fair amount of luck as a backhand tickled the net and dribbled over to earn him a break. Zverev continued with the momentum but failed to convert an opportunity for a double break at 3-1. The Russian fought back well to get a hold and stay in touch.
Zverev remained focused on his game-plan and delivered well to conclude an excellent 34-minute set by serving it out with a firing shot. The World no.3 player won 80 percent of his first serve points and offered just a little for the Russian. Medvedev won just 59 percent of his first serve. The Russian missed his service Spark in the championship match.
Medvedev needed a strong start in the second set but he handed his opponent an early break. A loose forehand from the Russian led him to drop a serve early once again. The World no.2 Medvedev failed to find his rhythm and momentum on the court.
Finally, he pressed Zverev to deuce at 3-2. But the German continued to keep Medvedev at his arms' length. Zverev held his nerve to secure the match with a wide ace. While Medvedev delivered 3 aces, Zverev finished with 8 aces.