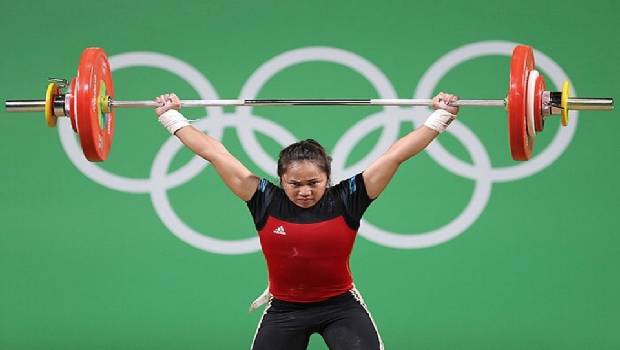 Weightlifter Hidilyn Diaz created history by becoming the first athlete from the Philippines to win a gold medal at the Olympics. Hidilyn Diaz clinched the top spot in the women's 55-kg class weightlifting in Tokyo. The 30-year-old weightlifter has set an Olympic record of lifting a combined weight of 224 kilograms. Hidilyn Diaz ended the Philippines's 97-year long wait for a gold medal in the Olympics history.
Hidilyn Diaz blow-out into tears as she won the gold medal with a record-breaking lift. The Philippines Air Force woman shed more tears as she saluted her nation's flag and sung the national anthem in a loud voice. Hildilyn was seen holding her gold medal and pointing to the Philippines flag on her jersey.
Diaz, who the silver medal at the 2016 Rio Games, smashed a personal best to surpass the World Record Holder Liao Qiuyun of China. Liao Qiuyun won the silver with 223kg while Zulfiya Chinshanlo of Kazakhstan took the bronze with 213 kg.
With Liao setting a target of 223kg, Diaz faced a final lift of 127 kg in the clean and jerk, to win with a total of 224 kilograms.
Diaz said that the winning moment is unbelievable, And her dream has come true. She wants the young people in the Philippines to dream of the gold medal in the upcoming years. Diaz added she is looking forward to going back home and celebrate the victory with her family.
Hidilyn Diaz spent seven months away from her family due to the pandemic situation and Covid-19 restrictions. She trained exclusively in Malaysia and determined herself to develop as a good lifter. Diaz is seen training with water bottles attached to the two ends of a bamboo pole, as there was no gym due to COVID-19 Lockdown.
Philippines Presidential Spokesperson, Harry Roque Congratulated and thanked Hidilyn Diaz for bringing glory and pride to the nation. He also added that the entire Filipino nation is proud of her. The Filipino Olympian is set to receive a total prize of $6,56,000. The Philippine Sports Commission gives $1,98,600 prize money for the gold medalist.
Diaz's medal was just the 11th and only gold medal by the Philippines since the 1924 Olympics. Diaz is the second athlete to win multiple Olympic medals for her Philippines Country.