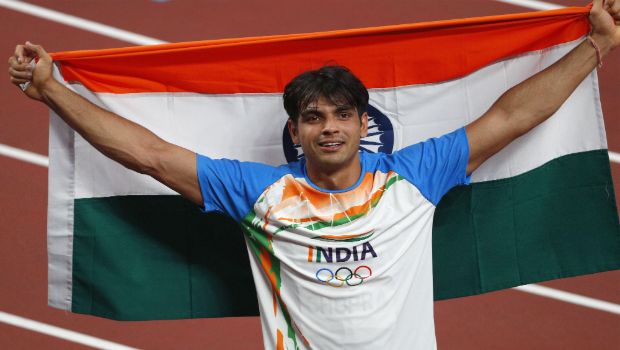 Indian boy with golden hand, Neeraj Chopra has turned the globe as he was nominated for the prestigious Laureus 'World Breakthrough of the Year' award by a panel of more than 1300 sports journalists. The champion javelin thrower became the first Indian field athlete to win an individual Olympic gold medal during the 2020 Tokyo Olympics. The 24-year-old young sensation is one of the six nominees shortlisted for the award. The winner will be revealed in April, following a vote by the Laureus World Sports Academy, and the world's ultimate sports jury made up of 71 greatest sporting legends of all time.
The other contestants are US Open champion Emma Raducanu, Russian tennis ace Daniil Medvedev, FC Barcelona talent Pedri, the world-record holder in triple jump Yulimar Rojas, and the reigning Olympic champion in the women's 200 and 400-meter freestyle, swimmer Ariarne Titmus.
The defending CWG and Asian Games champion is only the third Indian athlete to be nominated for a Laureus award. Earlier in 2020, cricket legend Sachin Tendulkar won the 'best sporting moment in the last 20 years' award. Woman freestyle wrestler Vinesh Phogat was the first Indian athlete to be nominated for the award in 2019.
The battle for the Laureus 'World Sportsman of the Year' award will be one of the most competitive ever around the globe. The nomination list includes Bayern Munich's top goal-scorer Robert Lewandowski, NFL star Tom Brady, tennis World no.1 Novak Djokovic, reigning Formula One world champion Max Verstappen, and two of the greatest Olympians: swimmer Caeleb Dressel and marathon runner Eliud Kipchoge.
After getting nominated for the award, Neeraj admitted that he feels so delighted and it is a great honor to be recognized in the wider sporting world. Neeraj expressed that he felt so proud, standing on top of an Olympic podium for his nation, and it is been quite an eventful journey for him so far. The Javelin thrower said that he feels privileged to represent his country and win medals at the global level.
World Athletics president and Laureus Academy member Sebastian Coe stated that the javelin thrower's sensational feat on the historic moment in Tokyo brought tears to his eyes. Sebastian Coe admitted that he has done his best to be entirely neutral since becoming the President of World Athletics.
He always wanted British athletes to do well. But after becoming the President he conceded that impartiality as he represents over 200 nations. Sebastian congratulated and wished Neeraj to win the award.