Russ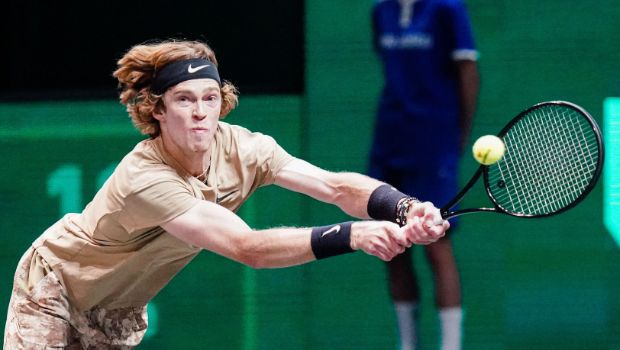 ian Andrey Rublev thumped World no.1 seed, Novak Djokovic, in the final of the 2022 Serbia Open. World no.8 player Rublev took complete control of the game in the decider set to beat the home favorite Djokovic. Rublev has been crowned as the 2022 Serbia Open champion after scripting a three-set win over Djokovic 6-2, 6-7, 6-0. Rublev deserved his maiden win at the Serbia Open. The Russian player delivered his best to stamp his 23rd win of the season. Rublev started well and continued with his rhythm to surpass Djokovic, who was in the hunt for a third title in Belgrade.
A special win for Rublev, as he never gave Djokovic a chance to come back in the decider set. The Serbian star Djokovic, who competed to lift the first title of the season, faded physically in the closing stages of the match. The 24-year-old Russian has no
Playing in front of his home crowd, Djokovic recovered well from a poor opening set and produced a fightback to force a decider. But the Serbian was then completely outclassed by his Russian opponent 6-0. The 34-year-old Djokovic Djokovic was off to a slow start as Rublev broke him twice and raced to secure the opening set 6-2.
However, Djokovic responded well to win a much tensed second set tie-break 7-6. The Serbian raised his game level in the second set to take the tie-breaker despite earlier squandering five set points on the Rublev serve.
But it was Rublev, who took complete control in the decider. The Russian won his opening service game before breaking Djokovic. Rublev used that break as a good opportunity to cement and played on to open up a 3-0 lead. Though the Serbian saved the first point, ruthless Rublev used the next chance to make it 4-0.
The Russian looked cool and calm to close out the championship match with a powerful forehand winner. Andrey Rublev clinched his 11th tour title after displaying an extraordinary performance. The clay-court win also leaves Rublev a tough contender for the 2022 French Open, which begins in May.
It is custom that the winner signs balls for the crowd. But Rublev won all hearts as he declined and offered Djokovic to sign the balls. Rublev proved to be a good player with great sportsmanship.