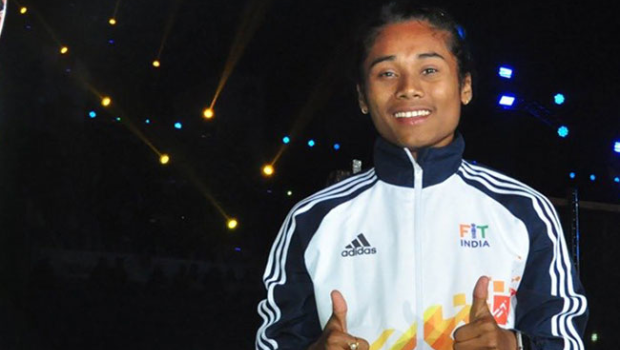 Hima Das, well renowned 400 meters sprinter from the Assam state, also has recorded, in the 100 meters, and 200 meters running. The Sprinter is an active runner until the year of 2019, after the Asian Games 2018, the  AFI and IAAF had insisted the athlete to pull out the World Championship September 2019, due to a severe back injury. Das the 20 years old sprint athlete despite the back injury, Das continued to participate in European championship games until 2019.
Hima Das had won gold medals in the 2018 Asian Games under women's relay and mixed relay race in the 400 meters category, and a silver in the 400 meters running. In Finland, on 2018 World U20 Championship conducted 400 meters sprint running, and Das was the first Indian to win a gold for the country. The athlete's best set timing was all recorded in the year 2018, Das completed 100 meters in 11.74 seconds, 23.10 seconds in 200 meters, and in the 400 meters, Das reached the finished line in 50.79 seconds.
In 2019, Rajesh Rajagopalan, in the Target Olympic Podium Scheme, received a letter by the Indian Federation of Sports Medicine, Dr. Chandran PSM, mentioning the Hima Das health condition. Regardless of the back injury, which could be a threat to sprinter's life known as Lumbar Spondylosis faced by the athlete, Hima Das was unstoppable from running in the competition. The athlete sprinted gold, under the 200 meters in Poland July 2019, another gold, in the Czech Republic under 400 meters by completing in 52.09 seconds, and in the Doha World Championship IAF and IAAF had removed Das name from the list.
Sarbananda Sonowal, the Chief Minister of Assam, during the state budget meeting, said that athletes who have won in the Olympic, Asian Games, and Commonwealth Games will receive Grade 1 job roles by the state government of India such as DSP or magistrate. On 6th March 2020, Friday, the former sports and youth affairs minister of India Sonowal announced Hima Das will take charge as Deputy Superintendent of Police.
Knowing the 2020 Olympic are off for the athlete, Hima Das thanked the Assam CM for the DSP offer. Das posted in the twitter social media by expressing thankfulness for the position in recognition of the achievements and that Das would push the limits to excel.