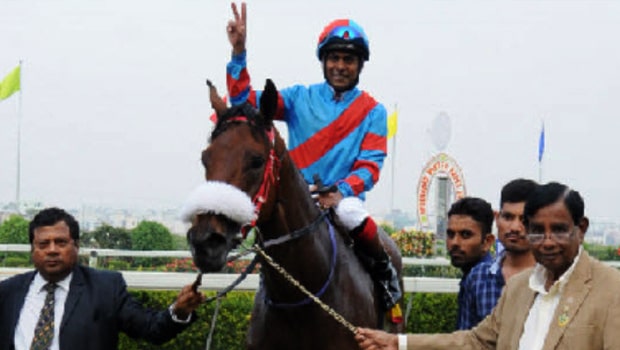 Paso Robles has lived up to the expectation she has been enjoying being a formidable local horse with a resolute win in the Gr 2 Golconda 1000 Guineas.
This is the first classic of the season. The horse trained by Leo D`Silva is known as the progeny of Arazan, which had recorded two back to back impressive wins.
With this feat, the filly has proven to be reliable, justifying the confidence of her pilot by overtaking her opponents with high competence.
According to the bookmakers, Paso Robles has been the most preferred horse in the betting with others failing to inspire confidence. So, the victory was not a surprise, and many stakers have smiled home to the bank.
Paso Robles came from behind to overtake Ice Floe, who was on a start to finish mission with Winall and Cape Kidnappers. The filly first drew level with Ice Floe in the straight, and the rider, Suraj, ensured that the favourite stormed clear. The horse also had something in reserve when Cape Kidnappers came up with a menacing run. After Paso Robles took the top spot, British Empress nosed out Ice Floe to snatch the third place after a flashing run from the wide side.
After recently migrating to trainer Satyanarayana`s yard, NRI Symbol gave a mesmerizing performance display in the hands of apprentice jockey Rohit Kumar, getting better of Top Contender in the closing stride of the race. This made the horse qualify for the 1400 meters Kuntala Plate, and a competition meant for horses rated 40 to 65.
Trevor Patel had Top Contender positioned well to launch an assault in the stretch. Top Contender shot ahead inside the final furlong with NRI Symbol putting up a big fight. The latter was able to put her in front at the all-important end. Vancouver ran on to take the third position.
Meanwhile, in the 1600 meters, Ch V Lakshmi Prasad Rao Sirdesai Sircilla Memorial Cup meant for horses rated 60 to 86, Jockey Akshay Kumar, who won in Mauritius, outshined last start winner, Nayadeep, to yet another win.
Written by: Oladipupo Mojeed.