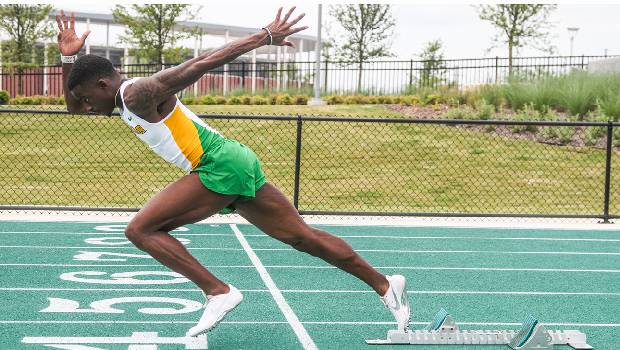 Trayvon Bromell bounced back from his first 100m defeat since 2019 and won the 100m at the Wanda Diamond League in Gateshead. Bromell re-established himself by winning the men's 100m at the British Grand Prix in 9.98 seconds. Britain's Chijindu Ujah sealed second place by reaching the finishing line in 10.10 seconds at the Diamond League event.
Bromell won the 100m in 9.80 seconds at the US Olympic Trials last month, but he had a disappointing finish at the EBS Diamond League meeting in Monaco, where he settled the fifth position in 10.01 seconds.
However, Bromell the fastest in the world this year with just 9.77 seconds will be much focused to reclaim the gold medal at the upcoming Tokyo Olympics. Sprinter Bromell will be the favorite to win the Olympic crown for the U.S. The crown was in the possession of Jamaican sprinter, Usain Bolt for 13 years.
Despite the cool conditions in northeast England, Bromell regained much of the form and showed great shape to do the best. He burst out quickly, surged to the front and consolidated the rest of the way, and cruised over the line by a good distance from CJ Ujah (10.10) and Zharnel Hughes (10.13). Bromell's fellow-mate American Fred Kerley finished fifth though he had a good start. Canadian Andre de Grasse, the Olympic and world 100m bronze medalist settled fourth. Both Fred and Andre crossed the line in 10.13.
Bromell said that he will take this win as positive energy towards the Tokyo Olympics. Bromell added he wants to get back into regular training; a good recovery and get ready for Tokyo. Bromell said he is blessed for being healthy.
He just trusts that he makes everybody proud by showing people to fight hard even when things are so rough, Bromell added. In the 2016 Rio games, Bromell injured his Achilles in the sprint relay and was carried off the track. Tokyo will be the second Olympic for him.
Bromell holds the junior World record with a time of 9.97 seconds. He was the first junior to break the 10 second time barrier in men's 100 meters. Bromell, with his best time of 9.77 in the 100m makes him the 7th fastest man of all time.
The 34-year-old Jamaican sprinter Usain Bolt, who retired in 2017, is very keen to see someone other than him capture the gold medal in the 100 meters and later the 200 meters for the first time since 2004. Bromell is one of Bolt's favorites in the 100 meters.