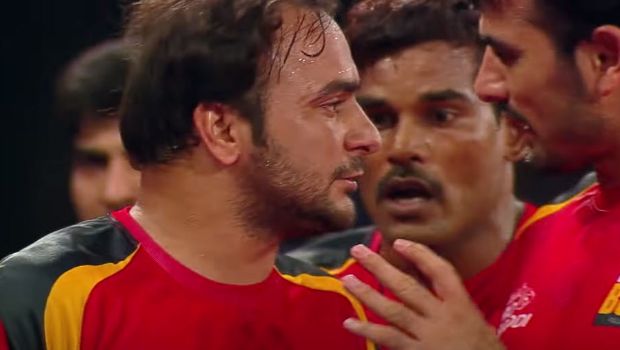 Haryana Steelers edged past Gujarat Titans 33-32 in a mouth-watering thriller at the Shree Shiv Chhatrapati Sports Complex on Monday. Haryana Steelers' raider Manjeet was the star performer of the night as he earned 14 raid points. Manjeet's heroics on the mat helped Haryana Steelers return to winning ways in the Pro Kabaddi League season 9. Chandran Ranjit and Rakesh Sungroya performed well for Gujarat Giants by scoring 8 and 7 points respectively. Both men fought hard and kept the Giants alive in the contest till the final raid.
Ranjit started the proceedings with a quick raid point for the Giants. Manjeet got two points in his first raid and took dubki king Pardeep Kumar along with Kapil out in the benches. Manjeet then got Arkam Shaikh to give Haryana Steelers an early lead. The Giants reduced the gap to 3-4 through a Super tackle on Manjeet by Rinku Narwal. A few minutes later, Rinku surrendered against Manjeet and the Steelers inflicted an ALL-OUT to make It 10-5, quite early on in the game.
Rakesh and Ranjit produced a fightback for the Giants with two Super Raids and reduced the gap to two points. But very soon, Manjeet earned his second Super Raid of the game and ensured the Steelers were in complete control of the match. With a touchpoint in the do-or-die raid, Manjeet claimed another point in the dying minutes of the first half to complete his Super 10 as Haryana Steelers went into the break with a 21-16 lead.
Manjeet started the second half with another raid point to ensure the Steelers stayed in control of the match. But Mahendra Rajput earned a Super Raid to reduce the gap to 18-22, Giants reviewed the decision to earn those points. Rinku then tackled Manjeet as the Giants showcased their intent to fight till the last minute. With Rakesh earning a Super Raid, Giants inflicted an All-Out on the opposition and took a one-point lead for the very first time as the match shifted gears.
Manjeet took down Manuj to restore parity. Jaideep along with Joginder deashed out Mahendra to regain their lead. But Kapil cleverly tackled Manjeet on the other end to ensure the score-line remained level. In the final minute, Jaideep earned a tackle point on Mahendra to help Haryana stay ahead in the match. The Steelers played perfectly in the final seconds of the game and eventually clinched a thrilling win.