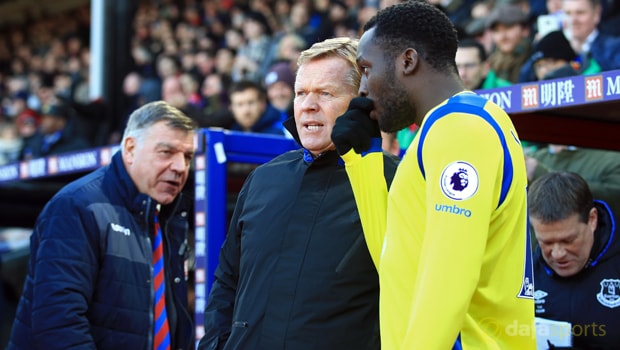 Romelu Lukaku has paid tribute to Everton manager Ronald Koeman as he says the Dutchman is helping with the "extra details" as he looks to improve further.
The Belgium international grabbed four goals in Everton's 6-3 win over Bournemouth on Saturday, taking his tally to 16 Premier League goals in 23 appearances this season.
Lukaku says he learned a lot from former boss Roberto Martinez and revealed Koeman is now helping him push on further with his all round game.
"I am a guy that works really hard at the training ground. I know that hard work will pay off," he told reporters.
"Whatever the manager told me at the start of the season I just stuck to it. "I believed in his philosophy of football and it helped me going forward.
I trust the process that he wants to do with this football club. "For me it is not different to Roberto Martinez. They both helped me in different ways.
I learn from them a lot of stuff. "I learned from Martinez about my movements, he taught me so much about that.
"The manager now is just helping me with the extra details, with the pressing of the balls and with my running off the ball and also the mental aspect of the game.
"He wants me to be focused at any time because he knows with my finishing if I have the ball in the last minute of the game I can decide the game.
"I'm delivering in whatever situations he wants me to play in."
Lukaku is currently the Premier League's top scorer, with Arsenal's Alexis Sanchez, Zlatan Ibrahimovic of Manchester United and Chelsea star Diego Costa all on 15 for the season so far.
Lukaku is 4.75 to finish as the Premier League 2016/17 top goalscorer, Costa and Ibrahimovic are both rated at 4.33 and Sanchez is 9.00.