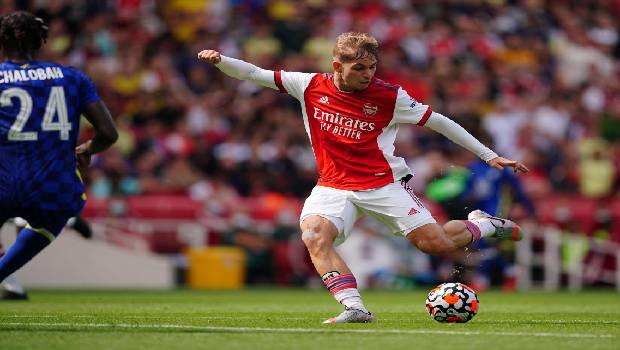 Arsenal beat Tottenham 3-1 to win the North London Derby at Emirates Stadium on Sunday. Arsenal tore Tottenham apart with three goals in the opening 34 minutes of the game and extended its early-season recovery with a victory. Goals from Emile Smith Rowe, Pierre-Emerick Aubameyang, and Bukayo Saka helped Arsenal to register a third successive league win after losing the opening three games. But it is a reversal of fortunes for Tottenham as they have now lost three in a row in the league after winning three matches.
Arsenal dominated the game from the start and scored three goals in the first half of the game. Those three goals were Tottenham Hotspur's downfall at the Emirates. Smith Rowe scored the opener in the 12th minute of the game. Martin Odegaard spread the ball wide to Saka, who sent a low cross to unmarked Rowe. Smith Rowe ran in and shot into the net from 10 yards.
Arsenal played well as a team and scored the second goal in the 27th minute. Aaron Ramsdale played the ball to Kieran Tiemey, who took it upfield to Aubameyang. Aubameyang played a one-two with Rowe before receiving the ball back and hit a clean shot that passed Tottenham goalkeeper Hugo Lioris.
Things got even better for Arsenal as Bukayo Saka had his name on the score sheet by scoring the third goal. Thomas Partey stole the ball from Harry Kane and the Gunners broke Tottenham's defense with brilliant passes. Smith Rowe found Saka, who ran into the box. Saka attempted a pass to the Arsenal captain. However, Harry Kane's missed tackle granted the ball back to his England teammate. Saka then finished it by sending low-past goalkeeper Lloris.
For the first time, Arsenal held a good lead as 3-0 against a top-six team since 2016. Tottenham pressed Arsenal harder in the second half but managed to register a goal only in the 79th minute. Sergio Reguilon drove a low hardball to Son Heung-min, who was inside the box. Heung-Min turned in and blasted the ball into the net.
The Arsenal defense was rock solid and never allowed Tottenham strikers to play shots on the target. Arsenal forward strikers were dynamic with their runs. After starting the season with three straight losses, Arsenal is back with three convincing wins. The Gunners have moved up to 10th place with 9 points. Arsenal could make it to the top four if they continue to perform well in the upcoming matches.