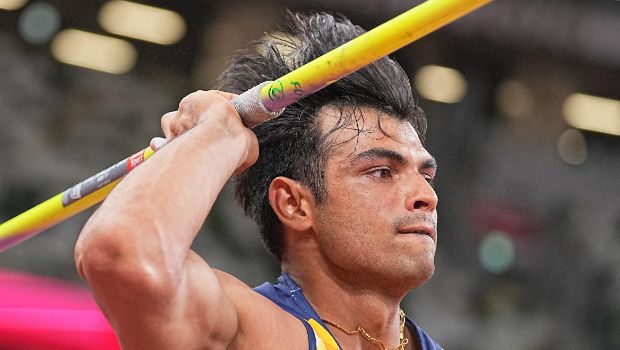 India's golden boy Neeraj Chopra eyes great success at the World Athletics Championships 2022 in Oregon, USA. Last year in Tokyo, Chopra ended India's long wait for an Olympic gold medal in athletics. Having started his season only last month, the Javelin Thrower proved that he is in excellent form by breaking the national record twice in three competitions. Chopra threw a personal best of 89.94m, just 6cm shy of the 90m mark, the gold standard in the world of javelin throw, at the Diamond League in Stockholm last month to claim a silver medal.
A total of 32 javelin throwers have been competing in the two qualifying groups. From there, the 12 best will qualify for the final scheduled for Saturday. The 24-year-old Indian expects to breach the coveted 90m mark this year but does not want to think about "distance" going into the World Athletics Championships.
The qualification mark was 83.5m and Neeraj Chopra's first attempt did it for him in the Group A qualification round. The Indian delivered with 88.39 meters in qualifying, his third career-best throw. Chopra, a hot favorite for a medal, qualified for his maiden World Championships final with a stunning throw. Chopra made it seem very easy and laid down the marker for the final. Neeraj Chopra's biggest strength has been his consistency in technique.
The legs play a key role in transferring energy to the javelin on the runway. Chopra would have focused on ankle strength, hip mobility, and flexibility of the throwing shoulder in the weeks heading into the Worlds. Chopra wanted one and did it pretty quickly and with ease.
Track and Field athlete star from India will play his first-ever senior World Championships final on Saturday. Chopra aims to deliver his best to add another title to his growing list of achievements. Rohit Yadav, who will be throwing in the Group B qualifiers, can become the second Indian to join him for the final two days later.
It is only the second time that Chopra is competing in the senior World Athletics Championships. Earlier in 2017, Neeraj recorded an 82.26m throw and failed to qualify for the final at the Worlds in London. In 2019, he was forced to sit out due to elbow surgery.
Chopra's tough competitor will be the reigning world champion Anderson Peters of Grenada. Peters has breached the 90-mark thrice this year and pipped Chopra to gold in Stockholm.