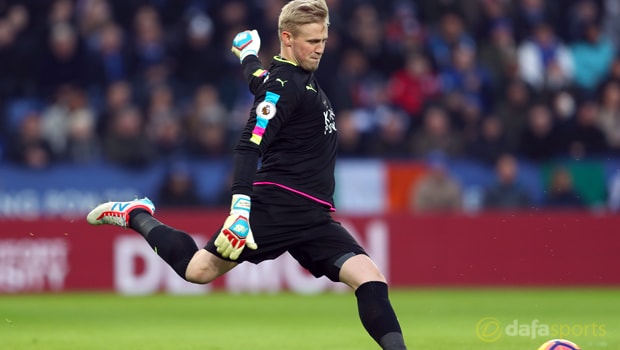 Leicester City goalkeeper Kasper Schmeichel insists his side are not panicking despite admitting they could be relegated unless they improve their form in the Premier League.
The Foxes, 3.50 to go down to the Championship, won the title last year in a remarkable campaign but they are now fighting to save their top-flight status.
Claudio Ranieri's men currently sit in 16th place in the table, level on points with rivals Swansea who they face on Sunday afternoon.
Leicester have won just once in the last nine league games, with their last success coming against West Ham United on New Year's Eve.
They were comfortably beaten by Manchester United last weekend and, after the game, Schmeichel claimed his team would be relegated unless they improved.
Ranieri's side have also yet to win away from home this year but Schmeichel insists nobody is worried at this stage.
He told Sky Sports: "There's no panic or anything like that, just a warning that we need to pick up. Everyone is aware of that and we're working very hard every single day to do that.
"We are a group of characters, really good characters, and different types of people in the dressing room. You need every single type of leader in there.
Like I say, we've been in this situation before – a lot worse – and got out of it relatively well. "The togetherness is not depending on what the media writes about our manager or players.
The togetherness is what has got us success; the togetherness is something I have never experienced at any other club before.
"We know what's going on inside the club, and we have full confidence in every single member of staff, every player, to make sure we get out of this situation."