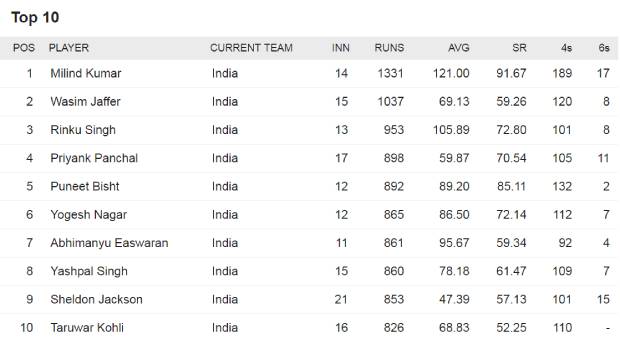 This round of matches proved to be a game changer. As Round 4 saw only a handful of matches drawn and a few upsets as well. We start off at Guwahati where Assam won by an innings and 35 runs over Haryana. This after Assam scored just 310 runs in the first innings. Haryana could manage only 97 in the first innings and 178 in the seconds. Only 6 batsmen scored double digits in both innings for Haryana as Arup Das took 9 wickets in the match.
In the heavyweight clash between Mumbai and Gujarat, Gujarat won by 9 wickets on day 4. The cricket best odds swing in Mumbai's favor as they took a mere 16 run lead after the first innings. But with another collapse in batting saw them set a target of just 204. This could have been tricky especially with Mumbai's bowling lineup but Gujarat captain Priyank Panchal took the responsibility of taking his team home. He scored a fabulous hundred with a strike rate over 100. Although this was Mumbai's first defeat their position in the table seems to be falling off.
The defending champions Vidarbha had an easy match against Chhattisgarh as they registered a convincing 10 wicket win. After declaring at 332, Vidarbha bowler Lalit Yadav destroyed Chhattisgarh as he took 7 wickets for just 56 runs. Vidarbha had an easy target of 46 which both of their openers achieved easily. This was the first win of the season for the defending champions and the cricket betting tips suggest that they would only move up in the table.
The showcase match of the round, Punjab vs Delhi was a one-sided affair. As Punjab won by 10 wickets and Gautam Gambhir saved the embarrassment of an innings defeat for Delhi with his 60 runs. Yuvraj Singh also didn't turn up as he could score just 24 runs before getting out.
The most exciting match of the round was between Tamil Nadu and Bengal. This thriller saw cricket odds shift from one team to another throughout the match. Bengal needed their bowler's to add 70 odd runs, in the end, to see them out.
With so many results in the round saw the likes of Gujarat, Rajasthan, and Uttarakhand top their respective group.