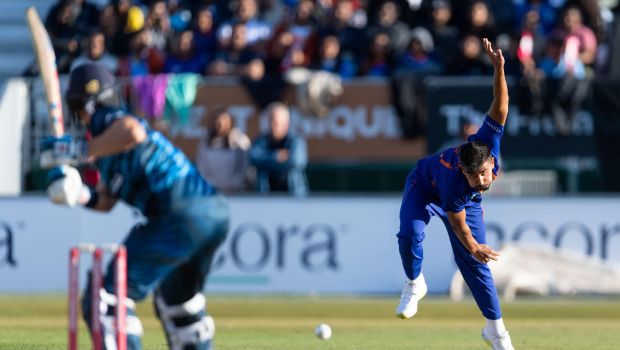 With the three-match T20I series already in the bag, India made four changes in the playing XI for the third and final match at Trent Bridge. Three changes were made in the bowling department, Umran Malik, Avesh Khan, and Ravi Bishnoi replaced the senior bowlers Bhuvneshwar Kumar, Jasprit Bumrah, and Yuzvendra Chahal in the lineup. Though it looked like a decent bowling attack lineup on paper, in truth it turned out to be a complete disaster. England, who struggled to cross the 150-mark in the first two games, piled up the highest score of the series, posting 215/7.
The young speedster Umran Malik failed miserably after being given a reality check by England. He was hit around the park by Jos Butler, Dawid Malan, and Chris Jordan. The 22-year-old pacer, who is arguably the fastest bowler to have ever played for India, produced a disappointing performance, leaking more than 10-runs an over.
Though Umran scalped the wicket of England opener Jason Roy, he ended up as the most expensive bowler in the match by conceding 56 runs in his four-over spell. This was only Umran's third T20I match and he already conceded 42 runs in his previous match as well.
Former India fast bowler Madan Lal has admitted that it is better to get Umran to play Test cricket, where he can bowl many overs and figure out how to swing the ball. Madan Lal expressed that the selectors should get him to play Test matches to make him a good bowler.
Former cricketer said that do not make him play T20I, instead, give him a chance in Test cricket where he can bowl 10 – 15 overs and learn the craft of getting wickets.
Madan Lal added that in T20Is the batters were ready for him. Umran was the one to get hit the most by the batters as his deliveries nicely came on to their bats. The 71-year-old cricketer stated that speeds would not be of much use if a bowler does not take wickets or he does not move the ball.
Lal further added that if he was the selector, he would not have taken Umran in the T20 squad. He concluded that Umran is inexperienced and that experience will come in Test matches. Umran has miles to go before he can be called a world-class bowler. India's defeat against England proved that India has only a few world-class bowlers and the rest are all ordinary.