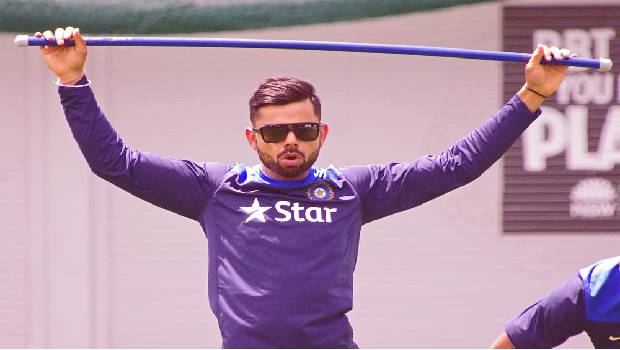 Ashton Turner, who ended Australia to a series leveling win with an unbeaten 84 off 43 balls, was declared not out immediately in his innings in spite of the snicko-meter exhibiting a spike following a DRS call from India.
Virat Kohli reacts as he walks around the field in the wake of losing fourth ODI cricket game against Australia.
India skipper Virat Kohli on Sunday censured the Decision Review System, saying "it isn't steady at all and turning into an argument in each contest". Ashton Turner, who terminated Australia to a series leveling win with an unbeaten 84 off 43 balls, was declared not out right off the bat in his innings notwithstanding the snicko-meter indicating a spike following a DRS call from India in the fourth ODI in Mohali.
"The DRS call was an astonish, it's just not unsurprising using any and all means, it's transforming into a thought in every match," said Kohli after the four-wicket defeat. India lost the match in spite of building up 358 for nine. The sequence decider shall be played in Delhi on Wednesday. In M S Dhoni's nonexistence, Rishabh Pant failed to take a stumping and by and large India was weak in the field. "We were untidy in the field and should've taken hold of our chances," said the India captain.
The dew moreover expected a noteworthy activity in the Australia's innings. "The wicket remained incredible all through, we've fallen on the wrong side of the dew in two matches, anyway that isn't a plea. Ashton played one serious thump, Peter Handscomb played an astonishing innings, Usman Khawaja held the innings together.
"They played better cricket, we inspired the chance to recognize and it's a record seek after, they reserved the privilege to win. If we had won the toss, we would've batted first (in Ranchi). We expected to get the fifth bowler unusual today around night time. If Kedar Jadhav and Vijay Shankar were bowling with the dew, it would've been progressively troublesome, so we expected to finish it first," said Kohli. India selected to bat and rolled out four improvements in the match. Australia captain Aaron Finch commended his batsmen after the praised victory.
"I thought the joint venture between Usman and Peter was vital. To more likely than not get us significant was fabulous. To get his first time century in cricketing was extraordinary. When we sought after 300 totals in Australia, we were attempting to keep running with a comparable system. The wicket was incredible; it wasn't frenzy. "The course of action was to acknowledge the redirection as significant as could be expected under the circumstances. Ashton playing his second match and playing a match-winning bang and Peter playing such a hit and Usman coming to outline was glorious. We have seen him (Turner) do that a lot in Big Bash. It was a world-class strike and to take on two of the best end bowlers on earth was outstanding." Turner was overjoyed with his stunning effort.
"I'm lost for words. I swung up to the ground today. Marcus Stoinis was doing his wellbeing test. He had a broken thumb, I figured he would play today and I would pass on beverages. Regardless, I expected to advance my mind from not playing to playing. "I was set up to go at whatever point given a chance. It's solitary one out of each odd day that we find the opportunity to play. Batting is a piece of fun, there were a little close calls and I understand that I didn't scratch that one that went upstairs. "He moreover credited his flourishing to past Australia opener Matthew Hayden, who is commentating in the advancing course of action.
"Haydos has been mind blowing to me. I was favored to get my best from him in Hyderabad. He's contributed a lot of vitality with me in the nets. He's a stunning player of turn bowling and he's a legend. Somebody I generally turned upward to. It's lovely to hear nice things from him," included Turner.