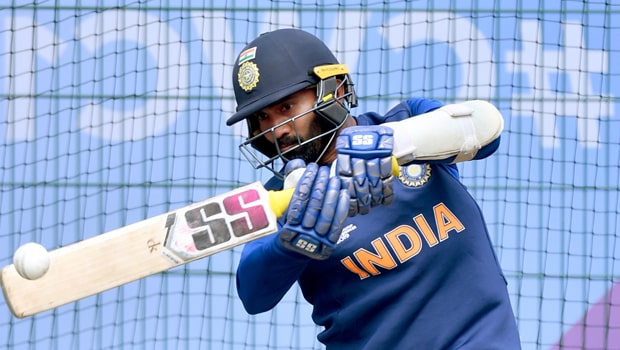 It has been quite a rollercoaster ride for KL Rahul in World Cup 2019. He wasn't a certain starter for India coming into this tournament. In fact, he had to audition for his place in the warm-up matches. Although he failed in the first warm-up game against New Zealand, just like other Indian batsmen, he came out with flying colours in the second warm-up game against Bangladesh. Rahul scored a century batting at No.4 after the top-order failed once again. Thus, he had earned his place in the first team and No. 4 was going to be his designated position in the competition.
He didn't have the opportunity to do much in the first couple of matches as he returned with scores 26 and 11* in the limited time he got to bat. But an injury to Shikhar Dhawan in the match against Australia gave him the opportunity to bat at his much preferred opening spot in the next match once again. He made an immediate impact as he scored 57 while opening the innings against Pakistan. He was also involved in a century-stand with Rohit Sharma for the first wicket.
However, it still looked like he wasn't playing with the same ease as we are accustomed to see him playing. His fifty against Pakistan came at a strike-rate of only 73.07. He followed up with scores of 30, 48 and 0 in the next three matches against Afghanistan, West Indies and England respectively, at a dismal overall strike-rate of 61.90 once again.
The signs were worrying as such a low strike-rate from an opener is totally unacceptable in this day and age. Mayank Agarwal was called up into the squad as a replacement for the injured Vijay Shankar and there were murmurs that he might replace Rahul at the opening spot. But India decided to give Rahul another opportunity in the match against Bangladesh. And Rahul didn't disappoint as he came up with a calm and composed innings of 77 of 92 deliveries. The strike-rate this time read a decent 83.69. Although it wasn't an outstanding figure,it was a significant improvement from the numbers in the previous innings.
The 27-year-old earned yet another opportunity to play in India's last league game against Sri Lanka and this was the match when he showed his true colours. The KL Rahul we knew had finally emerged. He showed utmost confidence right from the word-go and made a total mockery of the chase of 265 runs along with his opening partner Rohit Sharma. Both of them scored centuries but Rahul emerged as the highest scorer for India with an innings of 111 runs off 118 deliveries. His strike-rate underwent a significant improvement yet again as the figure read 94.06 this time. Moreover, his innings was laced with 11 boundaries and one huge six, and each one of those shots had class oozing out of them.
These are good signs for India as Rahul is coming into his own with the semi-final against New Zealand on the horizon. Rohit is already at his peak form and peak-Rahul will make India's batting even more formidable. He might not have had a good start to the tournament but he has certainly made up for that with the last couple of innings and now, he has the opportunity to finish on a good note by helping India to their third World Cup title.
Written by: Prasenjit Dey