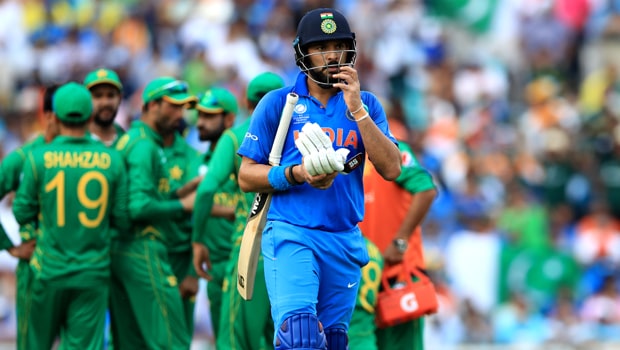 Yuvraj Singh called time on his international career in a press conference on Monday (June 10, 2019). His contributions to Indian cricket is immense and he has given them numerous joyous moments to cherish over the years. The southpaw was the reason why India went on to win the 50-over World Cup in 2011 and also the inaugural T20 World Cup in 2007.
His six sixes in Stuart Broad's over against England at Durban will always remain the main highlight of his career. Players like him come once in a generation but India is blessed to have some young players at the moment who are capable of carrying his legacy forward. Let's have a look at some of those players.
Rishabh Pant
The 21-year-old has already carved out a name for himself in international cricket having scored Test centuries in the tough conditions of England and Australia. Not only that, even though he hasn't featured in a substantial number of limited-overs matches for India, he is highly rated as one of the most dangerous shorter format batsman at present. His talent has been in full display when he scored over 400 runs in both of the last two editions of the Indian T20 League. He is also a standby for India's ongoing World Cup 2019 campaign and he will only go on to play more for India in the coming time ahead.
Ishan Kishan
The 20-year-old from Jharkhand is yet another player belonging to the Yuvraj Singh mould. He is yet to make his India debut but he is touted to be one of the best among young batsmen in India's domestic circuit at the moment. He plays for Mumbai in the Indian T20 League and has over 1000 runs in T20s which includes two centuries as well. His strike-rate of 130.86 gives a fair idea about his big hitting abilities. As far as List A Cricket is concerned, he has over 1000 runs in the format once again at a healthy average of around 40 and an excellent strike-rate of 92.11.
Shivam Dube
The 25-year-old Mumbai all-rounder was recently picked up by Bangalore in the auctions of the Indian T20 League 2019. Although he couldn't come up with significant performances in the few games he played for them this year, Dube is a highly talented all-rounder capable of replicating Yuvraj Singh's all-round skills. He has over 700 runs and 34 wickets in only 11 first-class games at excellent batting and bowling averages of 46.50 and 22.00 respectively. Although he is yet to get substantial numbers behind his name in the limited overs format, his strike-rates of 104.95 and 142.35 in List A and T20 formats respectively sum up his big hitting abilities.
Nitish Rana
Rana is the closest resemblance India have to Yuvraj at the moment. Rana bats left-handed and also bowls right arm off-spin which is pretty similar to Yuvraj, the only difference being Yuvraj's bowling style which was left-arm orthodox. He is only 25 years old and plays a crucial role for both Kolkata and Delhi in the Indian T20 League and other domestic tournaments respectively. He has seven first-class hundreds and one List A hundred to go along with batting averages of 41.04 and 38.58 in the two formats respectively. He has done a fairly good job in T20s too, having scored 12 fifties with a total tally of around 2000 runs in 86 matches. His bowling isn't used that much but strike-rates of 39.8 and 18.9 in List A and T20 formats respectively give an idea about his wicket-taking ability.
Prabhsimran Singh
The 18-year-old wicketkeeper-batsman hails from the same part of India as Yuvraj Singh and was picked up by Punjab in the auctions of Indian T20 League 2019 as well. He shot to fame when he scored three centuries in the Cooch Behar Trophy of 2017-18 and also smashed 298 runs off 302 deliveries in the Punjab U-23 tournament. He is considered to be one amongst the top five U-19 batsmen in the country at present and it won't be a surprise if he goes on to play for India within the next few years.
Written by: Prasenjit Dey