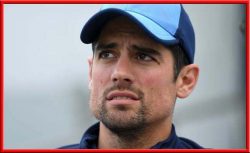 Now that Inda have lost the series, they will put up their best efforts in the final face saving Test against England at The Oval, which incidentally will be Alstair Cook's final International match.
England V India an overview
The Oval, London
5th Test
Thursday, 7 September, 11.00 local, 10.00 GMT
10 international matches and with 17 full days of cricket, encompassing more than two month the England V India cricket odyssey is finally coming to rest. The former captain of England will also bid adieu to cricket on Thursday, the 7th of September where he will take his final bow to the game he loved so much. One final day and another chapter into the annals of Cricket but his teammates will want to see him off with a win.
India on the other hand who are trailing with 3-1 scoreline will want to end the sojourn with a 3-2 instead of 4-1, notwithstanding their lining up on the field when "The Chef" walks out to bat. And more than ever the Indian captain Virat Kohli's words will be ringing out loud and clear in their ears : They will have to "cross the line".
Prithvi Shaw and/ or Hanuma Vihari who had been flown over for the last two tests may get a shot at a Tet debut. Ravindra Jadeja too might get a chance to be in the final XI too.
Key players :
Sam Curran ( England ): He has picked up eight wickets in three matches at 23.37 and scored 251 with an average of 50.20 the best among the other English batsmen in this series. Needless to add he's been a thorn in India's side.
Virat Kohli ( India ): Who can suspect his commitment to performance in the series, one would need to ask what would India would have done without him he's been carrying all the batting responsibilities single handedly, notwithstanding the contribution of others like Pujara and Rahane. But it was his ability that has not wavered. 544 runs at an average of 68 bears testimony.
Squads
England: Joe Root (c), Moeen Ali, Jimmy Anderson, Jonny Bairstow, Stuart Broad, Jos Buttler, Alastair Cook, Sam Curran, Keaton Jennings, Ollie Pope, Adil Rashid, Ben Stokes, Chris Woakes
India: Virat Kohli (c), Ravichandran Ashwin, Jasprit Bumrah, Shikhar Dhawan, Ravindra Jadeja, Dinesh Karthik, Karun Nair, Hardik Pandya, Rishabh Pant, Cheteshwar Pujara, Ajinkya Rahane, KL Rahul, Mohammed Shami, Ishant Sharma, Prithvi Shaw, Shardul Thakur, Hanuma Vihari, Umesh Yadav