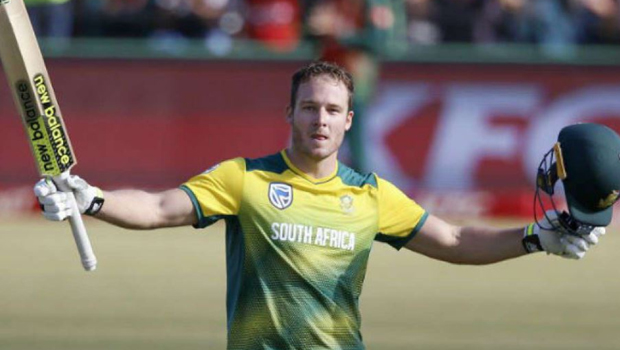 An awed Faf Du Plessis, who was taking care of at first slip, gave a noteworthy regard on his partner by comparing him with MS Dhoni.
Screen grab of David Miller endeavoring to influence a stumping during South Africa's second ODI against Sri Lanka.The provisions of past India skipper Mahendra Singh Dhoni are evidently on the climb as far back as his bounce back to outline, as a batsman, in worldwide cricket. Dhoni has been India's watchman blessed messenger since the ODI series in Australia, playing one match winning bang after another and the example has continued in the home game plan against Aussies too.
While Dhoni got a majestic welcome in the place where he grew up Ranchi in front of the third ODI of the series, his name was summoned a huge number of miles away in South Africa also. Amid the second ODI between South Africa and Sri Lanka at Super Sport Park in Centurion.
Proteas' standard wicket-specialist Quinton de Kock left the field in the 31st over of Sri Lanka's interest and this provoked master protector David Miller taking up the commitment of stay in wicket-gatekeeper. This was the main gone through Miller was seen keeping in an engaged match and the southpaw didn't wear the keeper's pads.
In the 32nd over however Miller attempted to influence a fast confusing off the bowling of Imran Tahir. While it results into a wicket, an awed Faf Du Plessis, who was handling at first slip, chose to present a major respect on his colleague by comparing him with MS Dhoni, who is known for defeating batsmen with his helping fast stumpings.
Du Plessis can be heard uncovering to David Miller "See you go, please MS".
The South African captain has seen Dhoni at work from crowdedness, having been a partner of Dhoni's in the IPL foundation Chennai Super Kings for quite a while.
While this could simply be exchange Miller endeavored stumpting and take behind the stumps was noteworthy in any case.
South Africa's Quinton de Kock top-scored with a natural 94 as they made a trip to a 113-run triumph over Sri Lanka and a 2-0 lead in their five-match One-Day International game on Wednesday.
South Africa ensured an eight-wicket triumph in the opening match on Sunday and was winning again paying little heed to losing their last six wickets for 31 runs as they posted a worse than average 251 all out.