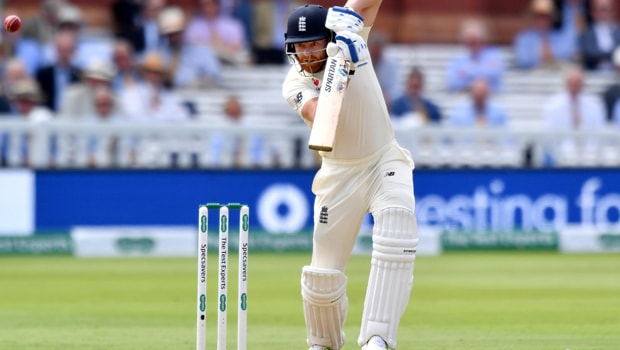 England coach Trevor Bayliss has given his strongest indication yet that Jonny Bairstow may be stripped of the wicket-keeping gloves in order to help him fulfil his potential as a batsman.
Jos Buttler is almost certain to keep wicket in next week's fourth Test against India at Southampton after Bairstow fractured his left middle finger at Trent Bridge this week, with Bairstow either missing or playing as a batsman only.
But despite Bairstow's clear preference to play as a keeper-batsman, Bayliss refused to guarantee that he would be restored to the position when his finger healed.
England's current batting ills have seen Bairstow move up the order to No5, and Bayliss even sees him as a potential No4 in future.
But Buttler's century at Trent Bridge after taking the gloves from Bairstow have given England a dilemma, with Bairstow averaging significantly more in the first innings of the game (59.5), than in the second (33.5), after he has spent an innings in the field keeping wicket.
And although Bairstow's keeping has improved markedly since taking the gloves full-time in late 2015, the England management have been pondering for a while whether the burden of keeping, with its mental and physical strain and hours of specialist practice, is curbing Bairstow's development as potentially one of the most prolific batsmen of his generation.
In addition, Bairstow without the gloves is perhaps the best and most athletic outfielder England have.
Complicating the issue is the fact that Bairstow has said publicly and privately that he is opposed to playing as a specialist batsman, and Bayliss admitted that a delicate conversation may need to take place at some point.
"That'll be the hard thing, trying to convince Jonny," he said.
"That will be a decision that is taken from the team point of view. He is a world-class batter. We know that. One of the difficult things might be convincing Jonny of that.