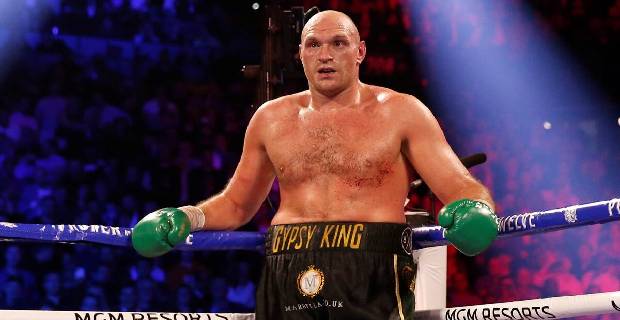 Britain's Tyson Fury has tested positive for Covid-19. Fury's heavyweight boxing title clash with Deontay Wilder has been postponed to 9th October. Earlier the fight between the two was secluded on 24th July.
In any case, Battle for World's Boxing crown will take place at T-Mobile Arena in Las Vegas. Fury has a good record of 30-0 with one drawn and 21 knockouts. In 2018, Fury fought Wilder for the first time to a draw, which allowed Wilder to keep the World Boxing Champion crown.
The 33-year-old Britain boxer defeated Wilder in the seventh round to claim the World Boxing Champion Title. This was the first loss to the American who stands 42-1-1 with 41 knockouts. Fury recently said that he did not need anything extra to crush the Huge Dosser and he will capture the WBC crown by beating Wilder to the worst. Fury added that he will not make any mistake and will be back at his best to knock out Wilder on the 9th October fight.
Fury was planning for an undisputed crown fighting against Britain's Anthony Joshua, But Wilder made a rematch clause in his contract for a third time with Fury. In May, Arbitration judge Daniel Weinstein ordered Fury to give a rematch with Wilder and the session was planned at Las Vegas. Wilders's Manager Shelly Finkel said this order was an expected one and Wilder will be ready to reclaim his World Title.
On 12th November 2012, it was announced that Fury would fight American world title contender Kevin Johnson who stands 28–3–1 with 13 knockouts in a WBC title eliminator at the Odyssey Arena in Belfast on 1st December. On 24th January 2014, it was announced that Fury would fight at the Copper Box Arena against Argentine veteran Gonzalo Omar Basile who stands 61–8 with 27 knockouts on 15th February.
On 5th February, Basile pulled out of the fight due to a lung infection. He was replaced by American journeyman Joey Abell who stands 29–7 with 28 knockouts and finally, Fury won the battle with a Technical knock-out in the 4th round. On 10th January 2018, Fury announced he would be re-applying for his boxing license through the British Boxing Board of Council as a comeback. On 12th July 2018, it was announced that Fury would fight former two-time world title challenger Francesco Pianeta who stands 35–4–1 with 21 on 18th August 2018.